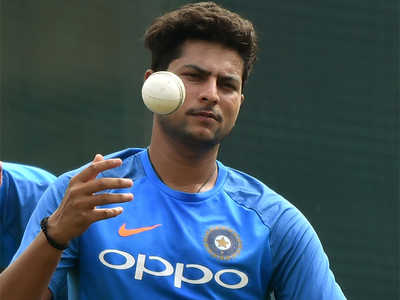 Kuldeep Yadav Biography
Kuldeep was born in Unnao in Uttar Pradesh. His father is a brick kiln owner and his mother is a homemaker. As a school student, Yadav was completely focused on his studies and performed very well at school.
His father introduced him to his first coach, Kapil Pandey, and Yadav's life took a big turn that day. Impressed with the young lads' turns and variations, Pandey decided to train him as a chinaman bowler.
Personal Bio
Full Name: Kuldeep Yadav Biography
Birthday:December 14th, 1994
Age:26 Years
Height: 168 cm
Nationality: Indian
Hair & Eye Colour: Black & Dark Brown
Nick Name: KD
Role:Bowler, Slow left arm chinaman
Home Town: Kanpur, Uttar Pradesh
IPL Price:7.40 Cr.
Family Bio
Marital Status: Unmarried
Father: Ram Singh Yadav (Owner of the brick Klin)
International Career
On 25th March, 2017 – Kuldeep went onto make his test series debut against Australia. He also become the first ever left-arm wrist spinner who represented the country in test series. Right after three months in June, 2017 he marked his international ODI debut against West Indies.
IPL Career
In 2012, he was picked up by Mumbai Indians. In 2014, he was picked up by KKR. In 2018, KKR again bought him for 5.8 Cr INR. In 2020 as well he will be playing for KKR and was bought for 7.40 Cr. INR
Interesting Facts about Kuldeep Yadav
Kuldeep hails from a very small village in Unnao district, Uttar Pradesh. However, to get better training facilities he later shifted to Kanpur.
His favourite bowler is Shane Warne
His hobbies include watching football and travelling.
During his initial time of training, he started off as a fast bowler, however after the advice of Kapil Pandey his coach he switched to chinaman.