Brothers movie is the official remake of the Hollywood movie Warriors starring Akshay Kumar, Sidharth Malhotra, Jacqueline Fernandez and Jackie Shroff. Jackie Shroff is in a pivotal role and the other actors are in lead roles.The film has revealed its very first poster with an amazing eye-catching look.
Akshay Kumar tweeted, "Here's the first look of my next film @Brothers2015 exclusively for you guys, would love to know your thoughts".
The poster has three main actors of the film, Akshay Kumar, Sidharth Malhotra and Jackie Shroff in salt and pepper rough look. The look of all the three actors is tough and extreme, which is based on their personality in the movie. Akshay also has a tattoo on his arm. Well, the poster of the movie is quiet attractive.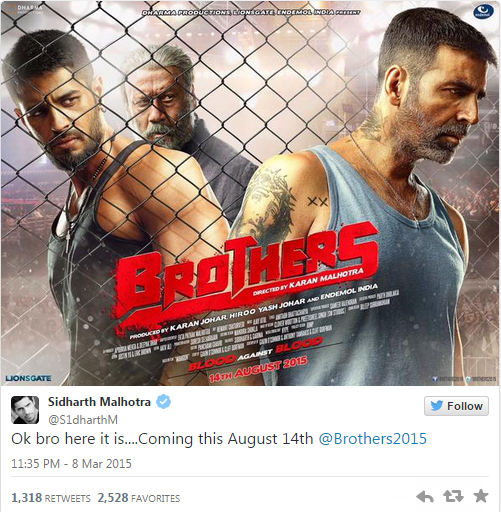 Direction and Production of the Movie
The movie is produced by Dharma productions, thus making the movie a third time reported movie of Karan Johar and Sidharth Malhotra together. It is for the first time, Akshay Kumar has worked with Dharma Productions.
Brothers is directed by Karan Malhotra, is one of a kind since it involves not only a fight, but intensive fights among brothers. Interestingly, Kareena Kapoor Khan will be seen as a special appearance in an item number with actor Sidharth Malhotra.
The film is scheduled to hit cinemas on August 14.
Brothers Movie 2015 Story
The story is a sports drama movie where two brothers are opposite to each other in a boxing ring. The main shooting of the movie has already begun in 2014 wherein Sidharth malhotra will be putting a lot of weight and also learnt some moves of martial arts for his role. Jacqueline Fernandez is playing the role of a leading star. Sidharth Malhotra who is one of the most charming young actors of Bollywood. Hi first movie Student of the year(2012) and his blockbuster Ek Villain(2014). Hollywood movie "Warrior" features Tom Hardy and Joel Edgerton who have done lead role in the movie.Akshay Kumar, who has impressive comic timing in Bollywood. Jackie Shroff is playing the role of the father, which is quite vital in the movie.
The first teaser of the movie Brother has been launched where in there is details of the cast and its release date. Both Akshay and Siddharth will opposite each other in the boxing ring.Actress Jacqueline Fernandez is playing the role of a starlet.
Brothers Movie Music Detail
Brothers movie songs will be released soon but as an audience our expectations are always high for any movie.We hope this high profile movie will give some hit songs of this year 2015 According to some news this movie songs will be composed by Ajay and Atul.
Whether 'Zee News' or 'The Hindu', they never have to worry about funds. In name of saving democracy, they get money from various sources. We need your support to run this website. Please contribute whatever amount you can afford.
Comments