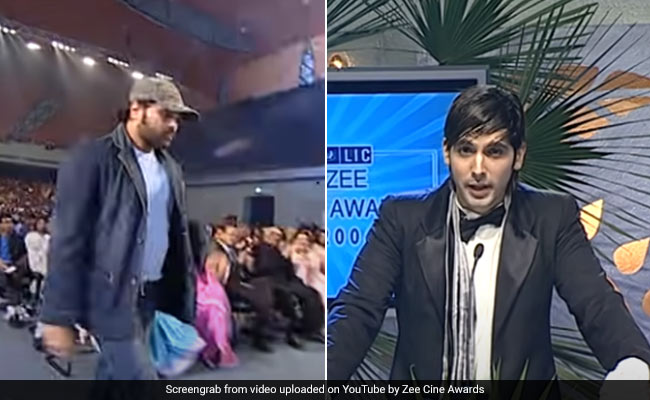 Himesh Reshammiya and Zayed Khan old video viral
Special Points
When Zayed Khan made fun of Himesh Reshammiya in the award show
Himesh Reshammiya got angry
old video viral on social media
NEW Delhi:
Bollywood's famous music director and singer Himesh Reshammiya is not interested in any identity. . His fans are all over the world. Whenever Himesh releases a song, it becomes a superhit on seeing it. However, on many occasions Himesh Reshammiya's nasal voice has also been criticized. A throwback video in this regard is going viral on social media. This video is from the award function of the year 2006. In this video, Zayed Khan and Karan Johar are seen hosting the function. During this time, Zayed had also made fun of Himesh Reshammiya and Himesh was very unhappy to see him doing this.
It can be seen in this video that Himesh Reshammiya got the award for the song 'Aashiq Banaya'. But before this, Zayed Khan says during the nomination: "The music business is trying all the tricks in the race to make every song a hit and its ringtone as a superhit and caller tunes a blockbuster hit." He goes on to say: "Another idea that became popular is to sing in hatke, different voices. When nothing works, the music director himself sings while holding the mic." Himesh is called on the stage after Zayed Khan said so much. But during this time he is seen quite crumpled.
Himesh Reshammiya after receiving the award says: "I have been accused of many things. I'll put it away till next year." Let us tell you that Himesh Reshammiya has recently released the title track of his album 'Suroor 2006'. His song is also getting a lot of love from the audience. Let us tell you that Himesh Reshammiya worked as a music director in 'Pyaar Kiya To Darna Kya' in the year 1998. Apart from this, he made his debut in the year 2007 with the film 'Aapka Surroor'. Himesh Reshammiya also made a lot of headlines as a singer through 'Aashiq Banaya Aapne'.