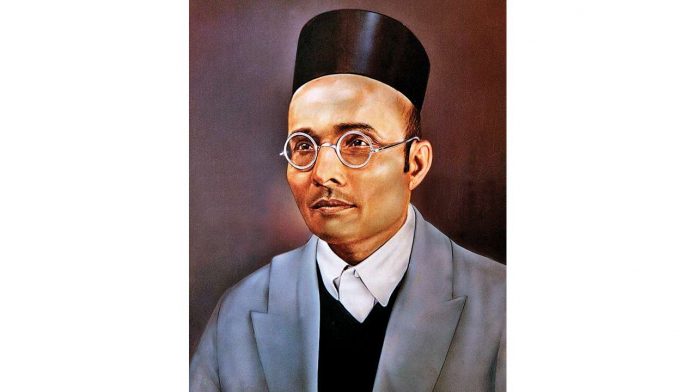 Vinayak Damodar Savarkar, commonly known as 'Swatantryaveer Savarkar' in the Marathi language, was an Indian independence activist and politician who formulated the Hindu nationalist philosophy of Hindutva. He was a leading figure in the Hindu Mahasabha.
Biography
Vinayak Damodar Savarkar, byname Vir or Veer, (born May 28, 1883, Bhagur, India—died Feb. 26, 1966, Bombay [now Mumbai]), Hindu and Indian nationalist and leading figure in the Hindu Mahasabha ("Great Society of Hindus"), a Hindu nationalist organization and political party.
Career
While a student of law in London (1906–10), Savarkar helped to instruct a group of Indian revolutionaries in methods of sabotage and assassination that associates of his had apparently learned from expatriate Russian revolutionaries in Paris. During this period he wrote The Indian War of Independence, 1857 (1909), in which he took the view that the Indian Mutiny of 1857 was the first expression of Indian mass rebellion against British colonial rule.
Incident
In March 1910 Savarkar was arrested on various charges relating to subversion and incitement to war and was sent to India for trial and convicted. In a second trial he was convicted of his alleged complicity in the assassination of a British district magistrate in India, and, after sentencing, he was transported to the Andaman Islands for detention "for life." He was brought back to India in 1921 and released from detention in 1924. While imprisoned he wrote Hindutva: Who Is a Hindu? (1923), coining the term Hindutva ("Hinduness"), which sought to define Indian culture as a manifestation of Hindu values; this concept grew to become a major tenet of Hindu nationalist ideology.
Later life and death
After Gandhi's assassination, Savarkar's home in Dadar, Bombay was stoned by angry mobs. After he was acquitted of the allegations related to Gandhi's assassination and released from jail, Savarkar was arrested by the government for making "Hindu nationalist speeches"; he was released after agreeing to give up political activities. He continued addressing the social and cultural elements of Hindutva. He resumed political activism after the ban on it was lifted; it was however limited until his death in 1966 because of ill health. His followers bestowed upon him honors and financial awards when he was alive. Two thousand RSS workers gave his funeral procession a guard of honor. According to McKean, there was public antipathy between Savarkar and the Congress for most of his political career, yet after independence Congress ministers, Vallabhbhai Patel and C. D. Deshmukh unsuccessfully sought partnership with the Hindu Mahasabha and Savarkar. It was forbidden for Congress party members to participate in public functions honoring Savarkar. Nehru refused to share the stage during the centenary celebrations of India's First War of Independence held in Delhi. After the death of Nehru, the Congress government, under Prime Minister Shastri, started to pay him a monthly pension.
Death
On 8 November 1963, Savarkar's wife, Yamuna, died. On 1 February 1966, Savarkar renounced medicines, food, and water which he termed as atmaarpan (fast until death). Before his death, he had written an article titled "Atmahatya Nahi Atmaarpan" in which he argued that when one's life mission is over and the ability to serve the society is left no more, it is better to end the life at will rather than waiting for death. His condition was described to have become as "extremely serious" before his death on 26 February 1966 at his residence in Bombay (now Mumbai), and that he faced difficulty in breathing; efforts to revive him failed and was declared dead at 11:10 a.m. (IST) that day. Prior to his death, Savarkar had asked his relatives to perform only his funeral and do away with the rituals of the 10th and 13th day of the Hindu faith. Accordingly, his last rites were performed at an electric crematorium in Bombay's Sonapur locality by his son Vishwas the following day.
He was mourned by large crowds that attended his cremation. He left behind a son, Vishwas, and a daughter, Prabha Chiplunkar. His first son, Prabhakar, had died in infancy. His home, possessions and other personal relics have been preserved for public display There was no official mourning by the then Congress party government of Maharashtra or at the centre. The political indifference to Savarkar continued long after his death.