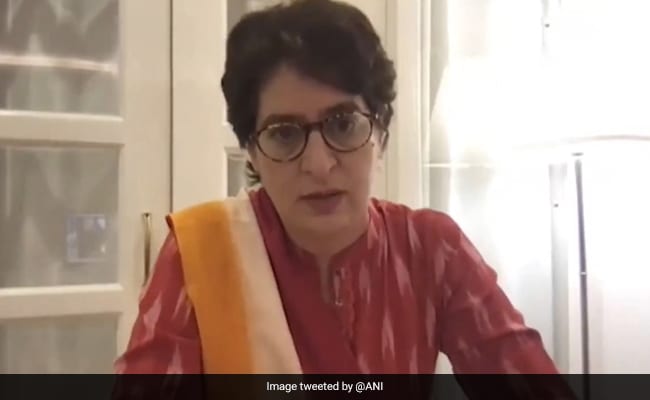 New Delhi: Vaccination drive is going on against Covid in the country, but many states are facing vaccine shortage. Dozens of vaccination centers have closed in Delhi, Maharashtra. The main opposition party Congress is constantly raising questions about the Modi government's vaccine policy. Congress leader Priyanka Gandhi has written a long Facebook post on Wednesday, attacking the government over the lack of vaccine. 'Who is responsible?' With the title, he has presented some facts first and then asked three questions. He said that 'Now there is only Modiji's photo on the vaccine, the rest of the responsibility has been placed on the states. Today, the Chief Ministers of the states are sending information about the shortage of vaccine to the Central Government.
The Congress leader wrote, 'Today, only 11% of India's 130 crore population has got the first dose of vaccine and only 3% has full vaccination. Vaccination declined by 83% in the last one month after the announcement of Modiji's Teeka Utsav. Today the Modi government has pushed the country into a quagmire of vaccine shortages. The government's failed vaccine policy appears to be behind the vaccine shortage. Who is responsible for this? '
Shortage of vaccine on one side, wastage of vaccines on the other hand, know the truth
Priyanka wrote that 'the bitter truth is that from the beginning of the pandemic, the vaccine in India became a tool for the Prime Minister's personal publicity rather than a tool to save the lives of the common people. Due to this, today the world's largest vaccine producer India has become dependent on vaccine donations from other countries and has joined the line of weak countries in the world in terms of vaccination. why did this happen?'
She asked–
1. The government was ready with the complete plan of vaccination only last year, then why only 1 crore 60 lakh vaccines were ordered in January 2021?
After the statement on the vaccine, Nitin Gadkari clarified, said – did not know the government started efforts
2. Why did the government send more vaccines abroad to the people of India by applying less vaccines?
3. Why is India, the world's largest vaccine producer, in a position to ask for vaccines from other countries today, and why is the government trying to present it as an achievement?