Sir V.C. Sajjanar IPS are the Commissioner Of Police from Cyberabad (Hyderabad). He is one who encountered the four suspects of Dr. Priyanka Reddy's case on Friday Morning on NH-44. Today everyone is appreciating his such ACT over social media and on other media channels too.
All four of the suspects in the Hyderabad gang rap and murder case of Dr. Priyanka Reddy were killed in a police encounter on Friday. The suspects were trying to escape during the investigation, which was when the police officials took the extreme step.
VC Sajjanar, Commissioner Of Police, Cyberabad stated that all the four accused have been encountered by Hyderabad police on NH-44
V.C. Sajjanar Wiki/Profile
| | |
| --- | --- |
| Full Name | V.C. Sajjanar |
| Also Known As | Encounter Specialist |
| Occupation/Profession | IPS, Commissioner of Police |
| Famous For | Encountering the four accused of Dr. Priyanka Reddy case |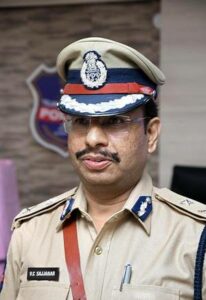 Further Information about V.C. Sajjanar
On 14 Mach 2018, IPS officer and inspector general V.C. Sajjanar became the Cyberabad police commissioner by relacing IPS officer Sandeep Shandilya.
Before became a Cyberabad police commissioner, He has worked in the intelligence wing for eight years.
His such act is getting highly appreciated by the public.
VC Sajjanar
Encounters
Warangal: 2008
Hyderabad: 2019

The best news to wake up to for every one. Disha rapists encounter at the same spot that her body was found.
# Salute TS police ?‍♂️?? pic.twitter.com/3RXV7c7sRq

— ArunKumar Tula (@tulaarun) December 6, 2019
Whether 'Zee News' or 'The Hindu', they never have to worry about funds. In name of saving democracy, they get money from various sources. We need your support to run this website. Please contribute whatever amount you can afford.