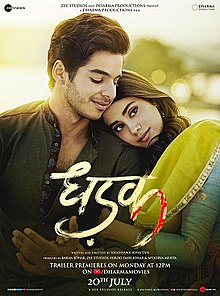 An upcoming Hindi movie, Dhadak, an official remake of Marathi film Sairat is  scheduled to be released on 20 Jul, 2018.
Dhadak is a simple,passionate movie about first love.
This upcoming movie Dhadak, marks a big screen debut of Janhvi Kapoor, elder daughter of  Legendary actress Sridevi and Boney Kapoor and also the debut of Ishaan Khatter, Brother of  Shahid Kapoor's.
Dhadak is produced by Karan Johar and directed by Shashank Khaitan.
The lead characters in this movie are Ishaan Khattar, Janhvi Kapoor, Ashutosh Rana and Kharaj Mukherjee.Other popular actors who were captured in for Dhadak are Aditya Kumar and Ankit Bisht.
The director Shashank Khaitan reveals that :
"When I saw 'Sairat' it resonated with me. The film had a strong impact on me and I wanted to tell the story in my style.The subject of the film was potent and relevant. Incidents that were displayed in Sairat happens every other day in our country and I felt the story needed to be told frequently."
Ishaan plays the role of a boy, Madhu,who belongs to Rajasthan and who desperately falls in love with Janhvi's character in the film.
Ishaan says,
"We didn't make 'Dhadak' to be at 'Sairat'. The main idea is to present a story that will reach a larger audience .Sairat was a phenomenal film because besides being engaging, entertaining and artistic, it also had a socially relevant message. However, 'Dhadak' is not its copy or made under its shadow. Sairat has inspired us to do something of our own. 
Janhvi who plays Parthavi also had to pick up the local dialect to do justice to her role.
she says,
"Dhadak is the biggest blessing of my life. I am so blessed to have Shashank Khaitan as my first director and Karan johar as producer as they creates such great energy on the set and makes me feel at home. 
After Watching the movie Dhadak , Actress Sonam K Ahuja Shared her feelings on Twitter and wrote that:
"What a stunning debut @Janhvikapoor so so proud! Moved beyond words. @Ishaankhattar you are magnificent. And this is all thanks to @ShashankKhaitan who has captured their innocence, vulnerability and strength! Superbb!! Stunned!!!!!!