Upasana Kamineni is an Indian entrepreneur who founded URLife, serves as Vice Chairperson of CSR at Apollo Hospitals, and is the chief executive officer of Family Health Plan Insurance TPA Ltd (FHPL). She is the wife of Ram Charan, a well-known actor.
Early Life and Education
Upasana Kamineni was born on July 20, 1989, in Hyderabad, Telangana. She pursued her education at Regent's University in London, where she obtained a degree in International Business Marketing and Management.
Family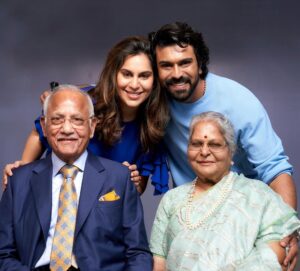 Shobana Kamineni, the mother of Upasana Kamineni, holds esteemed positions in the corporate and healthcare sectors. She serves as the President of the Confederation of Indian Industry and holds the Executive Vice-Chairperson role at Apollo Hospitals. Anil Kamineni, Upasana's father, is the visionary founder of the KEI Group, a conglomerate involved in logistics, leisure, and infrastructure. Puansh Kamineni is Upasana's brother, while Anushpala Kamineni is her sister.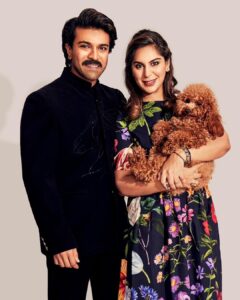 Upasana is married to renowned actor Ram Charan, who happens to be the son of the esteemed veteran actor Chiranjeevi. The beautiful union between Upasana and Ram Charan took place on the 14th of June, 2012, at the serene Temple Trees Farm House located in Chennai.
In the delightful turn of events, on the 20th of June, 2023, Upasana joyfully welcomed her firstborn, a precious baby girl, into the world. The couple is overwhelmed with a profound sense of gratitude and happiness, considering this new addition to their lives as an immense blessing.
Career
She is the creator of URLife, as well as the Vice-Chairperson of CSR at Apollo Hospitals [2] and the Managing Director of Family Health Plan Insurance TPA Ltd. Upasana is the Vice Chairperson of the Apollo Foundation, which helps those in need of medical care by diagnosing, treating, and educating them. She is also the Vice-Chairperson of Apollo Life, a healthcare and wellness website that delivers health, wellness, and fitness information.
Upasana Kamineni Konidela, a next-generation entrepreneur, well-being curator, sustainability activist, animal conservationist, and distinguished philanthropist from the Apollo Hospitals Family, believes in creating socialistic sustainable businesses that have a meaningful impact while giving back to society.
FAQs
Q: How did Upasana Kamineni contribute to the healthcare industry? A: Upasana has made significant contributions by promoting wellness, initiating healthcare development projects, and leading advocacy campaigns.
Q: What are some of the notable awards received by Upasana Kamineni? A: Upasana has been honored with awards such as Mahatma Gandhi Award for Leadership in Corporate Social Responsibility in 2019, Dadasaheb Phalke – Philanthropist of the year award in 2019, Femina Recognition in Healthcare Awards in 2017.
Q: Is Upasana Kamineni involved in any social initiatives? A: Yes, Upasana actively engages in social initiatives, focusing on areas such as Healthcare.
Q: How does Upasana promote preventive healthcare? A: Upasana emphasizes the importance of adopting a healthy lifestyle and creates awareness about the benefits of regular exercise, proper nutrition, and mental well-being.
Q: Who is Upasana Kamineni married to? A: Upasana Kamineni is married to Ram Charan.