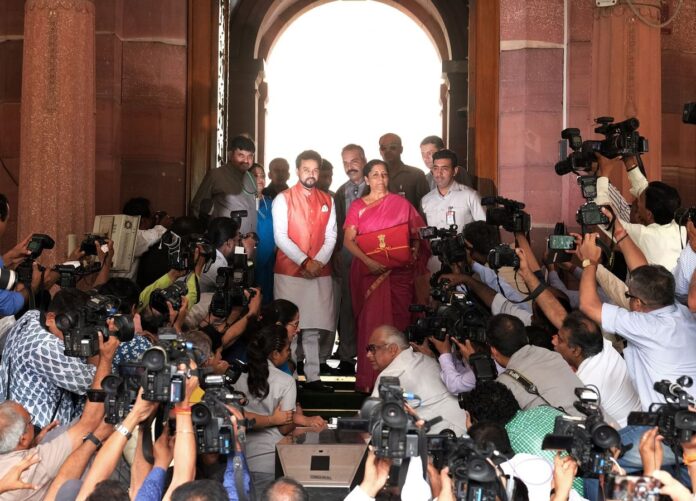 Budget 2020 live updates
Nirmala Sitharaman proposes FDI in education, sector allocated over ₹99,000 crore
Union Budget 2020 Highlights | Rs 1.7 lakh crore provided for transport infrastructure in 2020-21
Finance Minister Nirmala Sitharaman is presenting the second full-grown budget of the Modi Government 2.0. The government is facing a stiff challenge of a sagging economy which dipped to a its worst in a decade.
A cut in personal income tax, sops for rural and agriculture sectors as well as an aggressive push on infrastructure spending are likely to be part of Finance Minister Nirmala Sitharaman's "feel-good" second Budget.
Highlights of the Union Budget 2020
Taxpayers
Taxpayers' charter to be institutionalizes
National recruitment agency to recruit non-gazetted officer through an exam
We want to ensure the taxpayers that the government will not let anyone to be harrassed due to taxes: FM
We wish to enshrine in the statue a taxpayers' charter: FM
Culture and Tourism
5 archaeological sites to be developed as iconic sites with on-site museums -Rakhigarhi, Hastinapur, Shivsagar, Dholavira and Adichanallur
Rs 3,150 crore allocated for the ministry of culture in 2020-21
Rs 2,500 crore four development of tourisnm sector
Rural/Women/SCs and STs
'Beti bachao, beti padhao' has yielded tremendous results, gross enrolment ratio of girls across all levels of education now higher than boys.
Task force to be set up to recommend marriageable age for women
FM proposes budget provision of Rs 85,000 crore in 2020-21 for welfare of SC and other backward classes
Govt provides Rs 53,700 crore for development and welfare of Scheduled Tribes
Have identified suitable technology to eliminate manual cleaning of sewer systems and septic tanks: FM
Rs 35,600 crore for nutrition-related programmes in 2020-21: FM
Digital
FM proposes Rs 8,000 crore outlay over 5 years for National Mission of Quantum Technology and Application
I propose to set up Data Centre Parks. The IT sector should also look into this. This will help is storing and dissemination of data better
One lakh gram panchayats will be connected to the optical fibre programme: FM
Data is the new oil. We will soon roll out policy to enable private sector to build data centre parks throughout the country: FM
Energy
FM announces Rs 20,000 crore for the renewable energy sector
Conventional energy meters to be replaced by prepaid 'smart meters' in the next three years. Pre-paid meters (smart meters) will give consumers freedom to choose suppliers: FM


Aviation
100 more airports to be developed by 2024 under PM Udaan scheme
Railways
More Tejas type trains will connect iconic destinations: FM
FM proposes setting up of a large solar-powered capacity alongside rail tracks
Roads and Highways
Rs 1.7 lakh crore provided for transport infrastructure in 2020-21
Propose to monetize 12 lots of highway bundles of over 6,000km before 2024: FM
Delhi-Mumbai expressway and two other projects will be completed by 2023
Accelerated development of highways will be undertaken
Industry/Investment
FM proposes Rs 27,300 crore for the development and promotion of industry and commerce in 2020-21
I propose to set up an investment clearance cell that will provided end to end facilitation and support including pre-investment advisory, info on land banks and facilitate clearance at state level: FM
FM proposes a scheme focused on encouraging the manufacturing of mobile phones and electrical equipment
Health
Jan Aushadhi Kendras in all districts of country to provide medicines at affordable rates
FM proposes to expand Jan Aushadhi Kendras in all districts of country to provide medicines at affordable rates
Anti-TB campaign to be launched to eliminate TB by 2025
Education
FM says new courses will be introduced in 150 universities by 2026.
Sitharaman announces the introduction of 'Ind-SAT', an exam for Asian and African countries to help make India a higher education destination
FM announces Rs 99,300 crore outlay for education sector in 2020-21 and Rs 3,000 crore for skill development
Medical college to be attached to each district hospital under PPP model: FM
Degree-level full-fledged online education programme to be offered by the top 100 institutions
Steps will be taken to deliver higher quality education
By 2030, India is set to have the largest working age population in the world
Wellness, Water and Sanitation
We have approved Rs 3.6 lakh crore for Jal Jeevan Mission to provide safe drinking water to rural India
The total allocation for Swachh Bharat Mission is Rs 12,300 crore
We have provided an additional Rs 69,000 crore for the health sector: FM Sitharaman
A very focused safe water 'Jal Jeevan Mission' and sanitation programme 'Swachh Bharat Yojna' have been launched to tackle health concerns: FM
Agriculture
Agricultural credit target has been set at Rs 15 lakh crore: Sitharaman
Will set up Kisan rail so that farm goods can be quickly transported across the country: FM
We shall help 15 lakh farmers solarize their grid-connected pumpsets: FM
FM Sitharaman underscores government's ambition to make farming sector competitive
Whether 'Zee News' or 'The Hindu', they never have to worry about funds. In name of saving democracy, they get money from various sources. We need your support to run this website. Please contribute whatever amount you can afford.