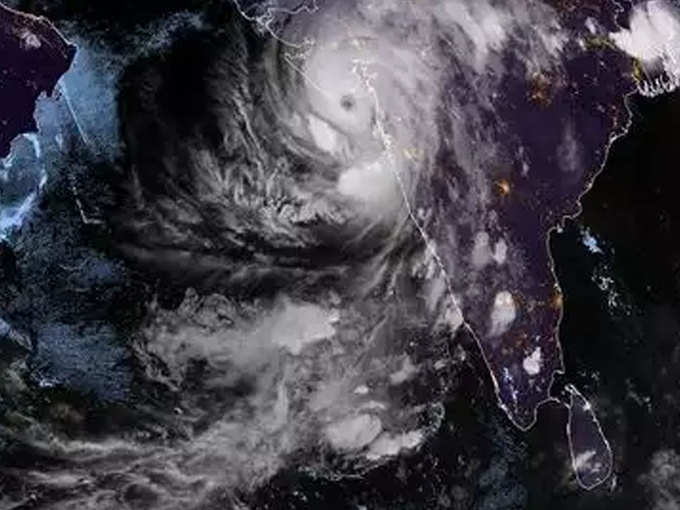 Ahmedabad / Mumbai: Typhoon Toute hits Gujarat coast It reached the coast at a speed of 165–175 km / h and will reach the shore completely within the next two hours.
The Met Office said heavy rains were expected in various parts of the country. A red alert was declared off the coasts of Gujarat and Diu.
As a precautionary measure, more than one lakh people living along the coast in 17 districts have been shifted to safer places. Mumbai airport has been temporarily closed following the warning. Mumbai also gets good rainfall. In Raigad district of Maharashtra, 8,383 people have been shifted to safer places, the district collector's office said.
In Karnataka, 121 villages and 22 taluks were affected, officials said. Gujarat will receive light showers. Isolated places in Saurashtra, Diu and Gujarat will receive heavy rainfall on Monday and Tuesday.
Cyclone Tauktae Gujarat
Those who move a fishing boat to a safe place in Veraval, Gujarat. REUTERS / Amit Dave
Extreme levels of rainfall and strong winds are expected along the Kerala coast as the cyclone continues to affect. Be aware of the dangers of seasickness and strong thunderstorms. Until further notice, the Disaster Management Authority has banned people from going to sea off the coast of Kerala.
The Central Meteorological Department has issued a yellow alert for 17 showers in Thrissur, Malappuram, Kozhikode, Wayanad, Kannur and Kasaragod districts and 18 in Malappuram, Kozhikode, Wayanad, Kannur and Kasaragod districts. Extreme caution should be exercised by those living in low-lying areas, such as riverbanks and landslide prone areas.
The National Oceanic and Atmospheric Administration (NOAA) has forecast 3.5 to 4.5 meter high waves and tidal waves off the coast of Kerala till 11.30 pm on the 18th. Fishermen and coastal dwellers must remain vigilant. Authorities have warned people to stay away from dangerous areas as seas are likely to intensify. Trips to the beach and recreational activities should be avoided.