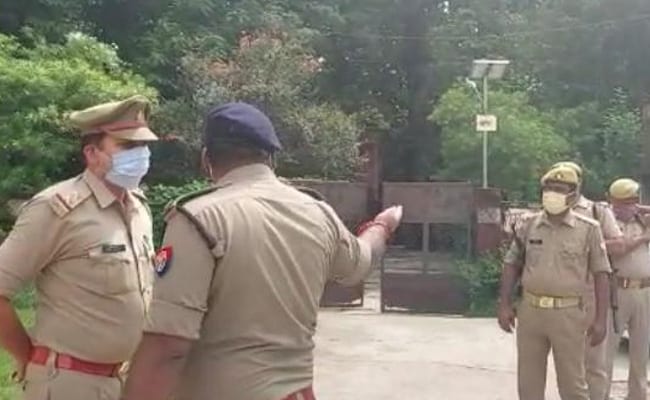 Bareilly:In Bareilly, on Wednesday, a man named Ranjit alleged that the police had put nails in his arms and legs in a dispute over not wearing masks. On Thursday, the police claimed that the man had put nails in his hands and feet to harass the police. The police also produced a witness to prove their claim. As a witness, the owner of a factory in Zardoji was presented before the media. Who said that Ranjit had put nails in his hands and feet in his factory itself.
In police custody, Ranjeet is doing a dramatization of putting a nail in his hands and feet in front of the media. Police say that Ranjit used to work in a zari factory earlier. On 24th, he took refuge in the factory after a fight with the police over the mask. Nails hit there.
Chand, the owner of the zari factory, said, "When I returned to Namaz, there were nails in Ranjit's hands and feet. Immediately reported at his house to come. The people of his house did not want to come. Then Ranjit said that take a picture and give two nails, say that the condition is very bad. I took a photo and sent it to the house. I said look, its condition is bad. My wife and children are all scared at my house. It has stung like this, all my children are scared. Take it now.
Ranjit arrived at the SSP office yesterday with nails stuck in his arms and legs and alleged that the police killed him by not wearing a mask. When he protested, the police took him to Jogi Nawata police post and hit him with spikes.
Accused Ranjit had said, 'Four five poles killed me. I said why are you hitting my head. So those people abused and said – you do not have a mask. When he was asked who hit the nails, he said, 'Sir, he blindfolded, then after that he hit the nails. When asked where the nails were hit, he said inside the checkpoint.
In this case, the SSP of Bareilly says that the allegations made against the police in the investigation have been proved wrong. It has been proved that Ranjit himself has been hit by a nail. Bareilly SSP Rohit Singh Sanjwad said, "On the 25th night, he slept in a factory and there he put a nail in his left hand and leg to save himself from arrest by the police in the state of intoxication."