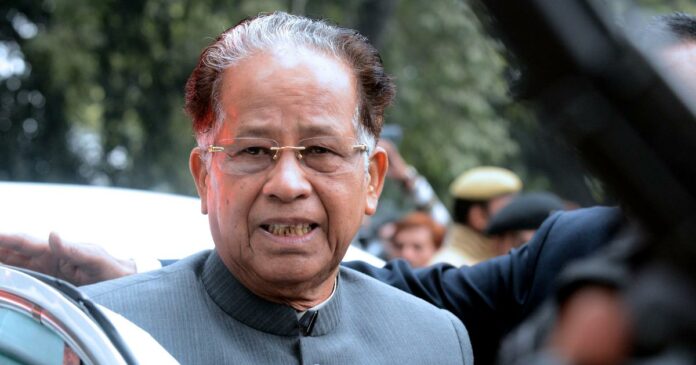 Tarun Gogoi Biography
Tarun Gogoi Born on 11 October 1934, He remained the CM of Assam from 2001 to 2016. The Indian National Congress leader guided the party to a 3 consecutive electoral victories in the state. He did his primary schooling from No.26 Rangajan Nimna Buniyadi Vidyalaya.
Death News
Former chief minister Tarun Gogoi, who breathed his last at age of 86 at the ICU of Guwahati Medical College and Hospital at 5.34pm on Monday after battling post-Covid complications for 20 days.
"With great pain, I inform that former chief minister Tarun Gogoi breathed his last at 5.34pm. Doctors have confirmed," state health minister Himanta Biswa Sarma said at the hospital.
ALSO READ: Former Assam's chief minister Tarun Gogoi is no more with us After Battle With Covid.
Education
He completed his LLB from Gauhati University, Assam in 1963.
Family/Wife
On 30 July 1972, Gogoi got married to Dolly Gogoi. He has one son Gaurav Gogoi and one daughter Chandrima Gogoi.
ALSO READ: Former Assam's Chief Minister Tarun Gogoi is in critical condition After Battle With Covid
Career
Gogoi 's political career started in 1968 when he was appointed as a member of the Jorhat Municipal Board. In 1971, Gogoi was elected to the fifth Lok Sabha during the tenure of Indira Gandhi. Tarun Gogoi won the 2001 Assam Legislative Assembly elections from Titabar assembly and became the chief minister of Assam. In 2016, his tenure came to an end after the INC suffered a defeat against the BJP. Gogoi completed six terms as a Member of Parliament (MP) from the Lok Sabha. From 1971–85, Gogoi represented Jorhat constituency. He was later elected from Kaliabor (1991–96/1998–2002).
Hobbies and Interests
Other than political interest, Tarun Gogoi loves reading and gardening. His interest is also vested in sports like cricket, football and tennis. He also plays golf. He was the former Treasurer of the All Assam Moina Parijat & Children's Organisations and ex-Chairman of Bharat Yuvak Samaj. He is the longest serving chief minister of the state. He led the Congress Party to victory in three consecutive legislative assembly elections.
Net Worth
Tarun Gogoi has the net worth of ₹5.35 CRORE.
ASSETS: ₹5.55 CRORE
Liabilities: ₹19.4 LAKHS