Sukesh Chandrashekhar Biography – Age, Life, Wife, Family, Carrier, Education, Controversy & much more
Sukesh Chandrashekhar is an Indian businessman and thug. Who started the work of cheating from the age of just 17 and had digested crores of rupees.
Since then till now Sukesh Chandrashekhar has made many people a victim of his fraud. Sukesh meets people like a professional person and sometimes tells himself to be the son of a big minister and sometimes he acts as a pimp and executes his deceitful exploits.
Quick Info About Sukesh Chandrashekhar 
Name – Sukesh Chandrashekhar
Nick Name – Balaji
Famous For – A viral romantic picture with famous For actress Jacqueline Fernandez, Being the main accused in a money laundering case of Rs 200 crore.
Birthday Year – 1989Age (Age) 32 years (in the year 2021)
Birth Place – Bangalore, Karnataka
School – Bishop Cotton Boys School, Bangalore
College – Madurai University

Img Src – Google Image

Citizenship – Indian
Hometown – Bangalore, Karnataka
Religion – Hinduism
Height 5 feet 10 inches
Eye Color – Black
Hair Color – Black
Hobbies – Singing
Girlfriend – Jacqueline Fernandez (Actress)
Marital Status – Married
Who is Sukesh Chandrashekhar
Sukesh Chandrashekhar is an Indian businessman and thug. The man who carried out several thugs recently became famous due to the viral picture of him romancing actress Jacqueline Fernandez on the internet.
Romantic pictures of Sukesh Chandrashekhar and Jacqueline Fernandez also surfaced all over the internet. According to sources, Sukesh and Jacqueline met each other more than four times during their interim bail.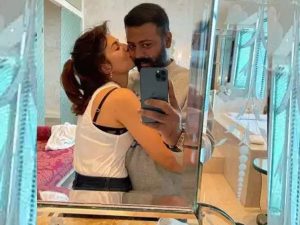 Birth & Education of Sukesh Chandrashekhar
Sukesh Chandrashekhar was born in the year 1989 in Bhavani Nagar, Bangalore. Most of his peers know him by the name Balaji. Sukesh Chandrasekhar was born in a middle-class family in Bangalore. His father's name is Vijayan Chandrasekhar. His mother's name is not known.
Sukesh received his early schooling from Bishop Cotton Boys School, Bangalore and joined Madurai University to complete his further studies. He was fond of luxury cars and sports cars since childhood. He also worked as an apprentice to arrange some car shows in his city during his university days.
Sukesh Chandrasekhar Family
Father's Name – Vijayan Chandrasekhar
Mother's Name – Not Known
Wife's Name – Lena Maria Paul
Sukesh Chandrasekhar's Wife
Sukesh Chandrashekhar is married to Leena Maria Paul, an Indian actress. Leena has acted in many popular movies including 'Madras Cafe'.
According to sources, Leena was once pregnant with Sukesh but she annulled her pregnancy soon after she came to know about it. Reportedly, in 2011, Sukesh Chandrashekhar and his wife separated from each other but after some time they started living together again.
Sukesh Chandrashekhar's girlfriend's affair
Sukesh Chandrashekhar has confessed to having a romantic relationship with popular Bollywood Indian actress Jacqueline Fernandez amid the investigation into the Rs 200 crore extortion case.
Sukesh's lawyer Anant Malik issued an official statement. Later, a romantic picture of Sukesh and Jacqueline in which Sukesh was seen kissing Jacqueline in a check in a mirror selfie went viral on social media platforms. Jacqueline's manager denied any connection with Sukesh and his wife on his part.
How did Sukesh Chandrashekhar become a thug?
Sukesh was first arrested in 2005, when he posed as a Bengaluru-based businessman, posing as a close friend of the son of the then CM Kumaraswamy. He had cheated Rs 1.14 crore from the family. And, at that time he was only 17 years old.
His way of working was very simple. He used to present himself as a relative of some strong and powerful personalities.
He was arrested in 2017 in the infamous Election Commission bribery case. He had asked for Rs. 50 crore from TTV Dhinakaran and promised him that he would make it possible for his faction to get the AIADMK's two-leaf symbol. He had already taken a few crores.
What are Sukesh Chandrashekhar's case and raids?
The Sri Lankan-origin actor was questioned by the Enforcement Directorate (ED) over several sessions in connection with its probe into the over Rs 200 crore money laundering case against Chandrasekhar and his actor wife Leena Maria Paul.
The agency filed a charge sheet in the case on Saturday, before a special Prevention of Money Laundering Act (PMLA) court, and named Chandrashekhar, his wife, and six others.
Including some Persian cats and a horse. He is accused of defrauding a few people including some high-profile individuals like Aditi Singh, wife of Shivinder Mohan Singh, former promoter of Fortis Healthcare.
Another Bollywood actor-dancer Nora Fatehi has also been questioned by the ED in this case. The investigation found that Chandrashekhar allegedly ran an extortion racket using phone spoofing techniques when he was lodged in Rohini Jail.
The ED had arrested two co-accused Pradeep Ramanani and Deepak Ramanani and the couple in this case.

Img Src – Google Img

In August, the ED raided some of Chandrasekhar's premises and seized a sea-facing bungalow in Chennai, Rs 82.5 lakh in cash, and over a dozen luxury cars.
It had declared in a statement that Chandrashekhar is an unidentified robber and is being researched by the Delhi Police for alleged illegal conspiracy, cheating, and extortion of around RS 200 Crore.
The ED had stated," Chandrasekhar is the mastermind of this fraud.

He has been part of this crime world since the age of 17.

There are multitudinous FIRs registered against him "
The ED said that despite being in jail, Chandrashekhar didn't stop cheating people.

"They used to make fraud calls to the people with the help of the internet and the no. shown on the screen are elder police officers.

The ED

had

 

declared

," 

Speaking

to these people( from jail), he

declared

 to 

be

 a 

government

 

officeholder

, who

was

 

offering

 to 

support

 at the 

cost

 of the people." Chandrashekhar and Paul were also arrested by Delhi Police.
The police had lately invoked the Maharashtra Control of Organized Crime Act (MCOCA) in the case.
The Delhi Police had alleged that Paul and Chandrashekhar, among others, used hawala routes, forming shell companies to park the money earned from the proceeds of the crime.