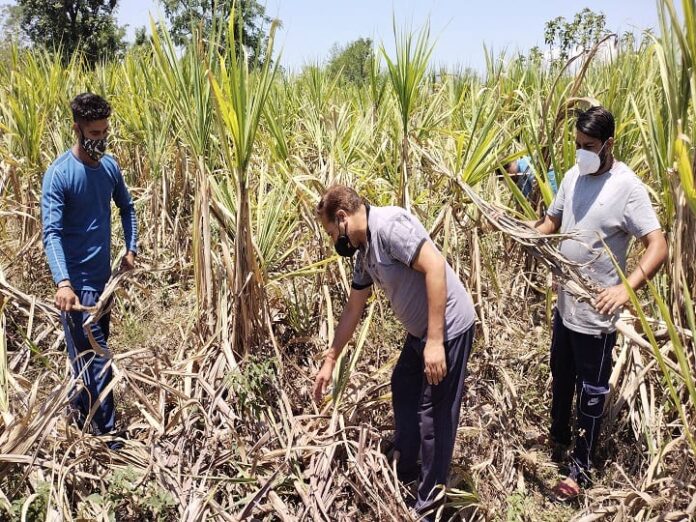 Curfew is in force in the state to prevent the rapid spread of corona infection in Jammu. At the same time, this tax curfew has increased the problems of the sugarcane farmers of the state and now the sugarcane standing in their fields is drying up and deteriorating.
In fact, curfew continues in the state to prevent infection, during which there are many types of restrictions in the state. Due to these restrictions, not only the movement of vehicles is banned, but the mandis are also ordered to remain open for a few hours.
Sugarcane of 30 village farmers deteriorated
These tax restrictions issued in the state have affected the sugarcane farmers of the state. The Math region of Jammu is famous for growing sugarcane and people of about 30 villages here earn their livelihood only from sugarcane cultivation. Only Krishna, the sarpanch of the Madh region, who is a sugarcane farmer by profession, claims that for the last two years, the sugarcane farmers of this area have been suffering.
They say that due to continuous curfew and lockdown for the last two years, their crop has deteriorated in the fields. He said that the people of about 30 villages of this area are dependent on sugarcane cultivation and at present, due to the closure of the market, the sugarcane lying in the sugarcane fields of the farmers of these 30 villages is getting spoiled. He said that in Jammu, the harvesting of sugarcane starts from the month of April and till this time a second crop is planted here, but in the present conditions sugarcane farmers have not yet been able to harvest their crop. Now this crop is getting spoiled in the fields.
Krishna claimed that in the current condition small farmers suffered losses of around one lakh, while big farmers suffered losses of more than five lakhs. At the same time, Kuldeep Kumar, a sugarcane farmer of the area, says that at present, these farmers do not have any means to carry this sugarcane from their fields to the mandi and at the same time traders are not buying this sugarcane.