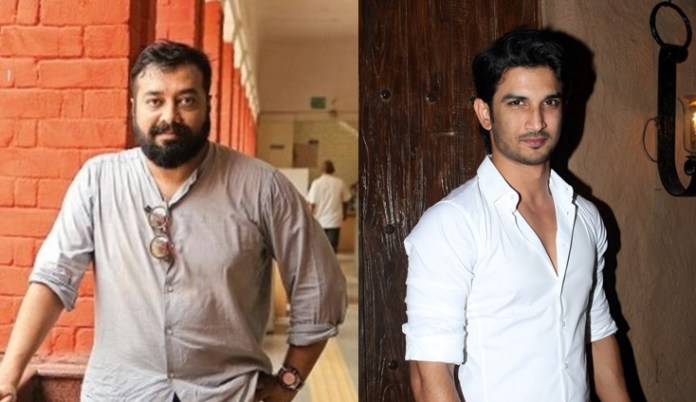 Before Sushant's death, his manager had a chat with Anurag Kashyap
Anurag Kashyap is a well known director in Bollywood. To date, he has produced several superhit films like 'Gags of Wassepur', 'Devadi', 'Raman Raghav' and 'Black Friday'. What is special is that new actors get more opportunities to work in Anurag's films. But he had refused to work with the late actor Sushant Singh Rajput. Sushant's fans had strongly criticized Anurag for his decision. Finally, Anurag has responded to the critics by sharing a WhatsApp conversation with Sushant's manager.
"I'm sorry to share this chat. These chats are from three weeks before Sushant's death. I had a conversation with his manager on May 22. For some reason, I didn't want to work with Sushant. " Anurag Kashyap has shared a screenshot of his WhatsApp conversation on May 22 by tweeting such content. In this chat, the manager asks Anurag about giving Sushant a job in the film and Anurag is telling him the reason for not giving him a job. This screen shot posted by Anurag is currently catching everyone's attention on social media.
Also My conversation with his manager on June 14th . It will show you things if you want to see. It feels horrible to do this but can't keep it back .. and for those as well who think we didn't care for the family . As honest as I can be .. judge me all you want .. pic.twitter.com/AdfJzcdh9M

— Anurag Kashyap (@anuragkashyap72) September 9, 2020
Actress Riya Chakra Varti, the main accused in the Sushant Singh Rajput death case, was arrested by the Anti-Narcotics Squad (NCB) on Tuesday. The court rejected her bail application and remanded her in judicial custody. The NCB claimed that there was strong evidence against Riya for buying drugs and colluding with other accused. The NCB team had been interrogating Riya since Sunday. Earlier, the NCB had arrested nine people, including Riya's brother Shovik, Sushant's manager Samuel Miranda, servant Deepesh Sawant, drug dealer Zaid Vilatra, Kazan Ibrahim and Abdel Basit Parihar. Among them, Riya was interrogated in front of Shovik, Samuel and Deepesh. The NCB is also investigating whether the threads of Sushant's death are linked to drugs.
Tags : "..So I didn't want to work with Sushant"; Anurag Kashyap's WhatsApp chat goes viral.