Femina Miss India World 2022: Sini Shetty from Karnataka won the title of Miss India World, Manasa Varanasi crowned
Sini Shetty, who hails from Karnataka, has won the title of Miss India 2022. Sini Shetty defeated Rubal Shekhawat of Rajasthan and Shinata Chauhan of Uttar Pradesh. They both became the first and second runners-up.
Sini Shetty "The Femina Miss India World 2022" wins the Title from Karnataka
The country got The Femina Miss India 2022
Miss Sini Shetty who won the title of Miss India 2022. She is 21 years old and hails from Karnataka. The Grand Finale event of Femina Miss India 2022 took place on 03rd July at the Jio Convention Center in Mumbai. The second place was command by Rubal Shekhawat from Rajasthan was the first runner up of Miss India 2022 after the winner Sini Shetty. At the same time, Shinata Chauhan representing Uttar Pradesh was the second runner up. They all looked very beautiful on the night of the finale of Miss India 2022.
Manasa Varanasi, the winner of Miss India 2021, crowned Miss India 2022 Sini Shetty. Sini Shetty, Rubal Shekhawat, Shinata Chauhan, Pragya Ayyagari and Gargi Nandi were in the top 5. On being selected as the winner, a wave of happiness was seen running on Sini's face. Other contestants also congratulated him for the victory.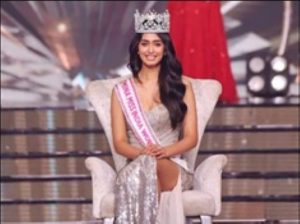 Let me tell you, Sini Shetty is a resident of Karnataka, but she was born in Mumbai. She is currently pursuing the professional course of Chartered Financial Analyst (CFA). Although her first love has been dancing, she started dancing at the age of four and finished her Arangatram and Bharatanatyam at the age of 14.
Ruble likes to play badminton
Talking about Miss India 2022 runner-up Rubal Shekhawat, she is interested in different fields like dance, acting, painting and also likes to play badminton. Whereas Miss India 2022 second runner-up Shinata Chauhan has been a scholar and has always been keen to do leadership work.
These celebs attended the grand finale 
The grand finale event of Miss India 2022 was very spectacular. The responsibility of choosing The Femina Miss India World of 2022 was that of a long panel. The critic of judges in the grand finale was included not one but six celebrities, it was attended by Neha Dhupia, Kriti Sanon, Maniesh Paul, Rajkumar Rao, Dino Morea, Malaika Arora and other celebs. Kriti Sanon and Lauren Gottlieb put on a stellar performance which made the event even more special. Neha Dhupia was honored in this event, she has completed 20 years of winning the Miss India crown this year. Not solely this, former Indian women's cricket team captain Mithali Raj was also present during this panel.
For More Trending News please Follow https://hotgossips.in/