Bollywood star Kiara Advani will tie the knot with Siddharth Malhotra here two days later on February 6. For the wedding, the couple has chosen the fort hotel Suryagarh Palace in Jaisalmer, situated in the golden sandy shores of Rajasthan. This hotel has become famous all over the country for memorable weddings. The royal splendor here attracts celebrities.
From the biggest businessmen to the stars of not only Bollywood but also Hollywood are convinced of Rajasthan's hospitality and royal attire. The historical heritage of Rajasthan is wonderful in itself. Jaipur, Jodhpur, Jaisalmer, Udaipur, and Sawaimadhopur have put four moons on the celebrations of the happiness of many big personalities. Be it the biggest personality of Bollywood or the biggest businessman in the country or the world. Everyone wishes to have a memorable ceremony in Rajasthan.
Mumbai is hundreds of kilometers away from Rajasthan. This Bollywood couple has probably chosen this place included in the top 10 hotels of the country so that they can spend the most beautiful moments of their life here. This star couple will tie the knot on February 6 at the Suryagarh Hotel amidst the sandy beaches of Jaisalmer. The Suryagarh Hotel of Jaisalmer is situated on Sum Road, about 16 km from the city.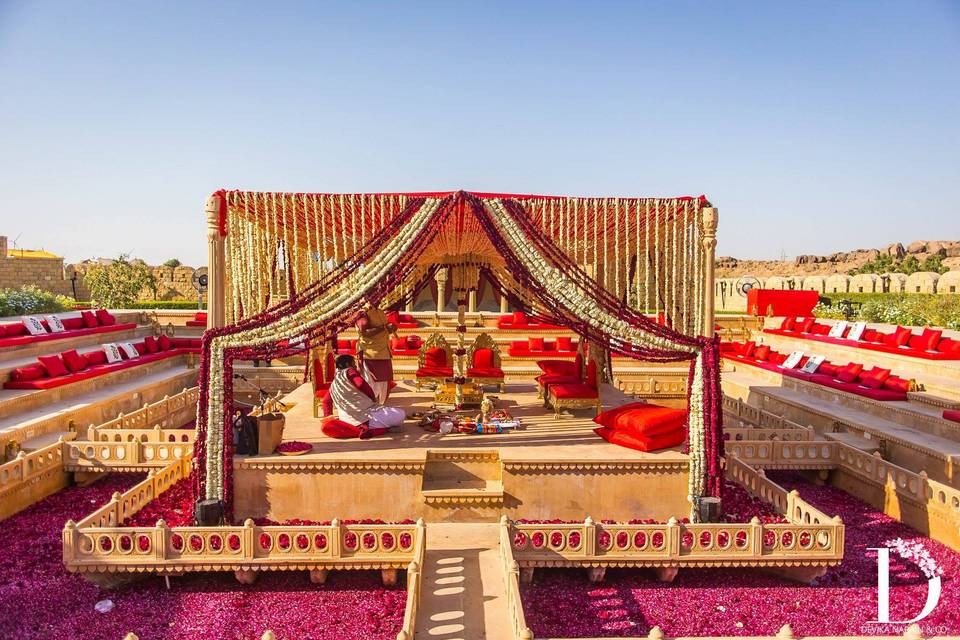 In December 2010, a businessman from Jaipur began construction on the hotel. This hotel is fashioned of Jaisalmer's golden stones and spans an area of roughly 65 acres. It is well known for destination weddings all around the world. You get a swimming pool with a guest room for the wedding and a great location to do all the functions of the wedding in a magnificent garden spread over 65 acres.
Suryagarh Palace has 84 rooms. There are 92 bedrooms. There are 2 big gardens. There is also an artificial lake here. Apart from this, there are gym, bar, indoor swimming pool, 5 big villas, 2 big restaurants, indoor games, horse riding, mini zoo and organic garden.
There are separate gardens for wedding functions in the hotel. The hotel's interior and location are very much liked by the guests. For this reason, Kiara and Siddharth have chosen Suryagarh for marriage. There is a place here by the name of Bawdi Hotel. This place is specially made for wedding ceremonies. The mandap has four pillars around it. Only in this pavilion will Kiara and Siddharth make their rounds.
On the shore of the lake, the hotel boasts two sizable gardens. More than one thousand guests can come there. Kiara will be applied henna here. The biggest courtyard of the hotel is the best place for music, turmeric, and henna. It is made beautiful by placing long curtains in tall buildings with carved nets made of yellow stones all around. Here 15 thousand rupees per person is charged for dinner. The wedding functions of the star couple will also be held here at different places.