Shikhar Dhawan is an Indian international cricketer. He also became the first player in the history of IPL to score two centuries in a row. Shikhar received the 'Player of the Tournament award for his superior performance in the 2013 ICC Champions Trophy.
Dhawan made his ODI debut in October 2010 against Australia in Visakhapatnam. His Test debut came in March 2013 against the same opposition in Mohali, where he scored the fastest century by any batsman on Test debut and ended his innings with 187 runs in 174 balls.
Apart from his stylish batting, Shikhar is also known for his stylish mustache and hairstyle. His friends fondly call him "Gabbar".
Birth and early life of Shikhar Dhawan
Shikhar Dhawan was born on 5 December 1985 in a Punjabi Hindu family. Dhawan was born in a Kshatriya family to Mahendra Pal Dhawan and Sunaina Dhawan. He has a younger sister Shrestha, who got married in 2017.
Shikhar Dhawan's education and early life
He did his schooling at St Mark's Senior Secondary Public School in Paschim Vihar, Delhi. Watching his cousin play for the sonnet club, he developed an interest in cricket, after which his parents enrolled him in the sonnet club at the age of 12. His coach Tarak Sinha trained him in cricket. Initially, he was the wicketkeeper in the club, but later he transformed himself into the opening batsman. He scored a century in the Under-15 tournament for the club. Since then, he practiced a lot to become a good cricketer. He was often overlooked by the selectors when he was playing domestic cricket, due to which he once made up his mind to quit the game.
Shikhar Dhawan's marriage, wife –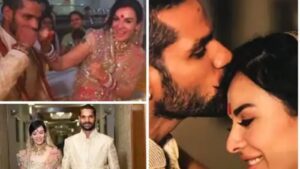 Shikhar Dhawan married former kickboxer and Melbourne-based Ayesha Mukherjee on 30 October 2012 in Vasant Kunj, New Delhi. Their son Zoravar was born in the year 2014. However, Ayesha is already divorced and has two daughters named Riya and Aaliyah from her ex-husband. However, after nine years of marriage, Shikhar Dhawan and Ayesha Mukherjee separated in September 2021. , In 2014, their son Zoravar was born.

Career
He first played for Delhi Under-16s in the 1999/00 Vijay Merchant Trophy. He scored 755 runs in 9 innings at an average of 83.88 with two hundred and a top score of 199. In February 2001, Shikar got a chance to play for the North Zone Under-16 team for the Vijay Hazare Trophy. In October 2001, he was included in the Delhi Under-19 squad at the age of 15 for the Cooch Behar Trophy. In October 2002, Dhawan was again selected in the Delhi Under-19 squad for the Cooch Behar Trophy, in which he scored 388 runs in 8 innings at an average of 55.42. In November 2004, he made his first innings debut against Andhra in the 2004–0 season of the Ranji Trophy, scoring 49 runs in his first innings. In 2005, he made his List A debut against Jammu and Kashmir. He was selected in India's senior squad for the Challenger Trophy in February, opening the innings with future Indian teammate MS Dhoni against India B. In April–May 2006, he represented India A in the Eurasia Cricket Series. In February–March 2008, he was the second highest run-scorer in the Vijay Hazare Trophy (earlier known as the Ranji One-Day Trophy). In October 2009, he played for India Red in the Challenger Trophy. In February 2010, he played five matches for Delhi for the Vijay Hazare Trophy and scored the highest runs for his team. In June-July 2010, they toured England. In October 2010, he was selected in the Rest of India squad to play against defending Ranji champions Mumbai in the Irani Cup. In October 2011, while playing for the Rest of India against Rajasthan in the final of the Irani Cup in Jaipur, In the first innings, he scored 177 off 165 balls, and in the second innings, he scored 155 off 126 balls. In June 2012, India A toured the West Indies to play 3 four-day matches, 3 List A matches, and two T20Is against the West Indies, and Dhawan was included in India A squad. In October 2012, he played for India A in the Challenger Trophy. In the first match against Bengal, he scored an unbeaten 99 to help India A chased down a target of 194 for the loss of two wickets and win the man of the match title.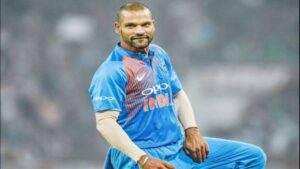 Achievements
He defeated CEAT International Player of the Year 2013 and International Batsman of the Year 2018.

He scored the most runs for an Indian player in the ICC World Cup 2015.
Most ODI centuries by an Indian cricketer in 2013.
He has scored 4309 ODI runs after the 100th ODI.
The highest runs scored by Shikhar Dhawan in Nidahas Trophy 2018.
He is the highest run-scorer in the ICC Champions Trophy in 2013 and 2017.
He won the Golden Bat 2 times in the ICC Champions Trophy.
Interesting facts about Shikhar Dhawan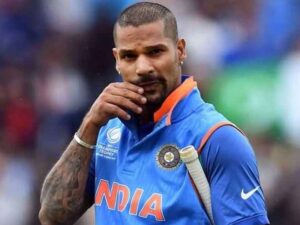 His Ghajini hairstyle, curled mustache, and the way he twirls his mustache is a trendsetter among the youth.

Shikhar Dhawan playing in the Under-19 World Cup
Dhawan giving Tao to his mustache
Indian cricketer Harbhajan Singh introduced Dhawan to his wife Ayesha.
His wife is half Bengali and half British and is 10 years older than Shikhar Dhawan.
He often celebrates in a signature style after taking a catch.
Dhawan is a very down-to-earth person. According to him, Sufi songs taught him to equate success and failure.
He is the first cricketer to get 2 consecutive Golden Bats in the ICC Champions Trophy.
He is a tattoo freak man. His body is covered with many tattoos. On his right hand, Arjuna (a character from Mahabharata), Lord Shiva, and Baba Deep Singh are depicted. He has "Carpe Diem" written on his left biceps, a tribal design on his right shoulder, 'A bird with a leafless tree' on his left calf, and his wife's name is written "Aisha" on the left forearm.
Shikhar Dhawan's assets
He charges ₹6 lakh for an ODI match, ₹3 lakh for a T20 match, and ₹15 lakh for a test match. He was bought by Sunrisers Hyderabad for ₹5.2 crores for IPL 2018. His net worth is around ₹75 crores.
Net Worth ₹75 Crore

Retainer Match Salary ₹7 Crore
Test Match Salary ₹15 Lakh
ODI Match Salary ₹6 Lakh
T20 Match Salary (T20 Fee) ₹ 3 Lakh
IPL Match Salary (IPL 11 Fee) ₹5.2 Crore