Shartan Lyrics by Khan Bhaini ft. Mankirat Pannu is brand new Punjabi song sung by Khan Bhaini, Mankirat Pannu and music of this latest song is given by Sycostyle. Sartan song lyrics are also penned down by Khan Bhaini and video is directed by Sukh Sanghera.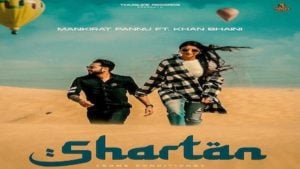 Shartan Song Details:
| | |
| --- | --- |
| Song: | Shartan |
| Singer: | Khan Bhaini, Mankirat Pannu |
| Lyrics: | Khan Bhaini |
| Music: | Syco Style |
| Label: | Thuglife Records |
Shartan Lyrics
Na Na Na Na…
Oh Kamm Dhande Di Landu Bande Di
Care Kade Tu Karni Ni
Pegg Laun Vich Ghare Aaun Vich
Der Kade Tu Karni Ni
Thaan Meri Share Ni Karni
Ve Aah Gall Kade Pher Ni Karni
Makeup Te Breakup Vich Main
Jatta Kade Der Ni Karni
Oh Suni Gaur Naal Gall Pher Jattiye
Jatt Pakke Aa Bolan De
Jehde Baaz Shikari Mitran
Kad Hath Aunde Koyal'an De
Syco Style!
Gehri Aa Ve Jatta
Badi Zehri Aa Ve Jatta
Tehri Mere Te Kyun
Kudiyan Taan Lakh Ae
Oh Dogle Pehchandi Aa
Duki Tikki Chhandi Aa
Bhaini Wale Khan Di Jo Ankh Ae
Supna Main Buneya Jo Tere Baare
Suneya Jo Kardi Umeed Hona Sach Ae
Oh Gabbru Shareef
Taan Hi Hundi Aa Tareef
Bas Ganeya Ch Chakma Jeha Touch Ae
Kyun Tinna Da Rang Dark Rakhdae
Chasme Car Kameej'an Da
Oh Ik Tainu Bas Chhad Ke Shaunki
Jatt Kaaliyan Cheezan Da
Suit Cho Laini Aa
Tainu Chakkni Paini Aa
Jatti Hauli Jatta
Nakhreyan Ch Baahar Ae
Oh Suit'an Di Dukaan Laa Doon
Daa Te Jind Jaan Laa Doon
Oh Ni Jo Gallan Naal Dende Saar Ae
Deja Koyi Nishani Mudd Takki Na Begani
Jatta Hona Na Patch-Up Dooji Baar Ae
Oh Jani Khani Karle Afford Mitran Nu
Enna Jatt Da Na Haula Kirdaar Ae
Ve Sunke Chadhje Lorh Jehi
Kehnde Nasha Tera Har Bol Kare
Oh Geet'an De Wich Kalla Gabbru
Paper Wangu Rol Kare
Na Na Na Na…
Oh Jach Ke Rahi Tu
Jatta Bach Ke Rahi Tu
Aithe Chubhda Kaiyan Nu Tera Name Ae
Oh Dar Kahda Titran Da
Rabb Rakha Mitraan Da
Fame Taan Mukkadran Di Game Ae
Tera Vi Niyaneya Ch
Young Te Seyaneya Ch
Teena Ch Craze Jatta Same Ae
Oh Galli Baati Chad'da Ni
Gaaneyan Ch Lad'da Ni
Apna Rakane Ik Aim Ae
Ek Gall Teri Hor Changi
Tu Rehnae Door Vivada Ton
Ho Nikki Umre Jaanu
Duniya De Dastoor Riwajan Ton
Na Na Na Na…
Written by: Khan Bhaini
Found Any Mistake in Lyrics?, Please Report In Contact Section with Correct Lyrics!
You may also like…