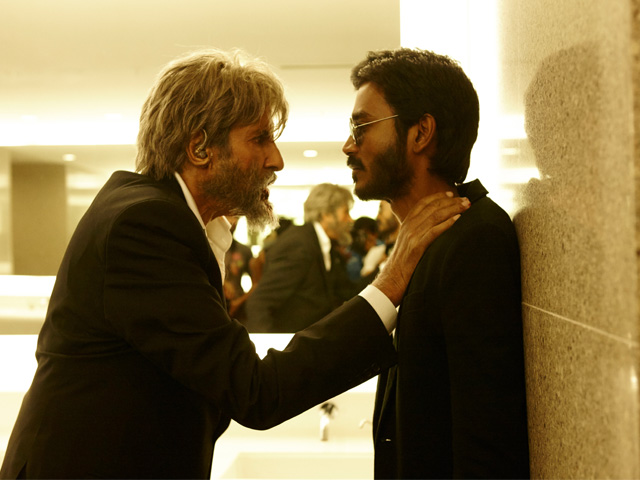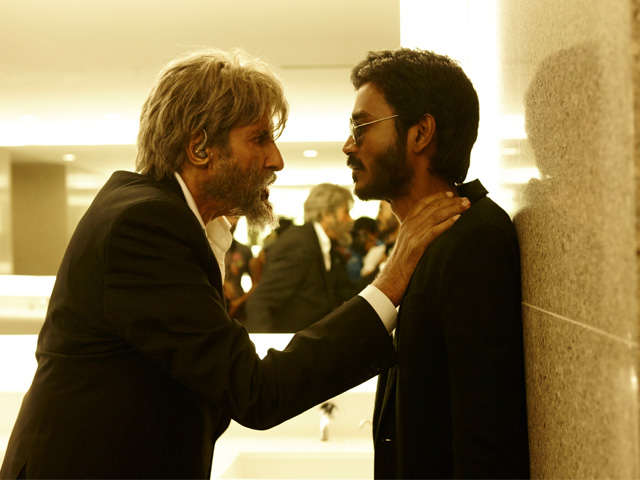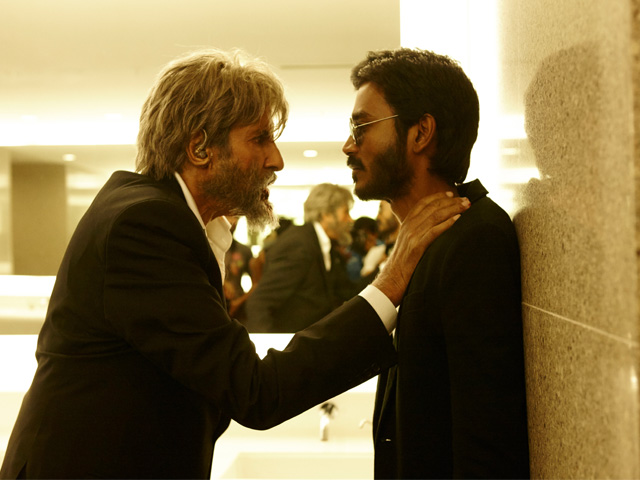 The story, the performances and the dialogues work wonders for R Balki's latest film
After giving us heart stirring films like Cheeni Kum and Paa, director R Balki is back with yet another endearing film with an unlikely combination of Amitabh Bachchan and Dhanush. Though Balki and his team did their best to keep the story under wraps, there were multiple rumours in the market about Shamitabh's plot. Being a Dhanush fan, I was eager to see how does he pull off a role that was first offered to Shah Rukh Khan. And more importantly, leaving the guessing games and rumours aside, I was really intrigued to find out what Shamitabh was all about. And as I stepped out of the theatre at the end, I had no doubt in my mind that Shamitabh will be one of the top best films of the year. Let's cut the chase and dive into the review.
What's it about:
A speech impaired boy, Daanish (Dhanush) from Igatpuri, dreams to become an actor since he was a kid. After his mother's demise, Daanish leaves for Mumbai to pursue his dream. There he has a chance encounter with assistant director Akshara (Akshara Haasan) who sees his true potential and wishes to help him. Through her father's doctor friend, Akshara gets to know about a technology using which the speech impaired can speak. A device is planted in Daanish's throat, which records the voice of the person speaking to him through an ear piece and plays it every time he opens his mouth. All he gotta do is lip sync with the voice! Akshara and Daanish then rope in a bumbling drunkard Amitabh Sinha (Amitabh Bachchan) to be Daanish's voice. Daanish becomes Shamitabh, a superstar overnight and all the limelight hogged by Daanish makes Amitabh jealous. Soon ego clashes arise between the two and they split. But with the help of Akshara, they soon realise that they can't be successful without each others help and bury the hatchet. Meanwhile a nosy reporter finds out that Shamitabh aka Daanish is actually mute and Amitabh is lending his voice for him. Will the reporter expose the truth about Shamitabh? How will Daanish and Amitabh tackle this tricky situation forms the climax of the story.
What's good:
It is no doubt that Amitabh Bachchan is one of the finest actors in history of Indian cinema. But if you thought that the 71 year old has lost his touch, then think again as Big B proves that he has still got it in him to make the crowd hoot and cheer for him. Amitabh is excellent as a drunken voice artist who believes that he has a bigger hand in Shamitabh's superstardom. The veteran actor is at his quirky best, slurring some of the funniest lines I have heard in recent times with great comic timing. If you thought Dhanush was really good in Raanjhanna, in Shamitabh, Dhanush will show his range and caliber as an actor. With no dialogues to mouth, Dhanush emotes with so much intensity such that he lights up screen with his charismatic presence. Akshara Haasan makes an impressive debut, playing her part of mediator between the two with great conviction. R Balki deserves a pat on his back for telling a unique story which is witty, funny, philosophical and endearing all at the same time. Picturisation of Piddly song will leave you in splits. The light banter and leg pulling between Dhanush and Big B made my day. At first, Amitabh's voice from Dhanush's mouth sounded odd but later proved to be quite entertaining. Dhanush and Amitabh compliment each other really well, as I can't really choose who performed better. Since Big B is introduced as Shamitabh's valet Robert to rest of the world, it was a really nice gesture from the makers to put all the valet's names first in the end credits. Be ready for a climax that would give you a mild shock. Kudos to dialogue writers for dishing out such funny one liners that are peppered throughout the film.
What's bad:
I really can't pinpoint what's bad. But if I really had to say something bad, then the film's first five mins where all the industrywallas praise Shamitabh at a red carpet function is little dull and over the top. Climax left me jolted and made me wonder if it was really necessary for the filmmaker to end the film on such a note, as it spoils the mood for a brief moment.
What to do:
It is a rarity in Indian cinema to find a film that is both highly entertaining, thought provoking and clean at the same time. Backed by some powerhouse performances of Big B and Dhanush,Shamitabh is one of the finest films of this year. Don't miss it. Do yourself a favour and go watchShamitabh right way!