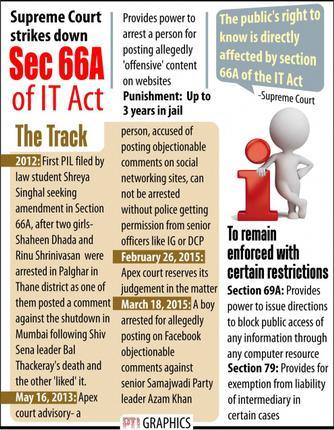 The section code gives police powers to arrest people for posting "offensive content" online
The Supreme Court on Tuesday struck down Section 66 A of the IT Act, which permits police to arrest people for posting "offensive content" on the web.
The court, however, permitted the government to block websites if their material had the potential to set up communal disturbance, social sickness or affect India's connection with other countries.
The bench lawyer said the public's right to know is immediately affected by Section 66 A and the Section clearly impacts the right to freedom of speech and expression enshrined under the Constitution of India.
Further, the court said Section 66 A was unconstitutional because it's unsuccessful in two major tests – the clear and present danger test and the tendency to create public disorder test. The Supreme Court also found the language used in the Section is vague and nebulous saying it does not properly define words like 'offensive' or even 'persistent'.
The Supreme Court said it can't go by government assurances that the Section won't be misused as any assurance would not bind on successive governments. Section 66 A IT said, would have to be evaluated on its own merits.
The court said there is a big difference between advocacy ,discussion and incitement. Discussion & advocacy, no matter if irritating to some people, has to be allowed, it said.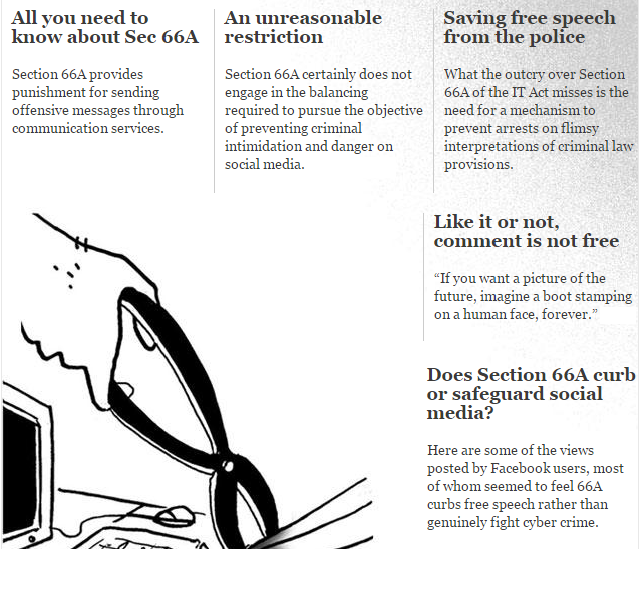 What Twitterati Says
The girl from Delhi who took on the draconian Section #66A http://t.co/m5agumcNv9 pic.twitter.com/hqYdLUxEGM

— Livemint (@livemint) March 24, 2015
#Sec66A Most politicians: Suggested 66A. Approved of 66A. Defended 66A. Fought for 66A. Now celebrating that it has been struck down. Dei. — Ramesh Srivats (@rameshsrivats) March 24, 2015
Now we can say-We are in a democratic country-We CHOOSE-We VOTE-We EXPRESS-We SPEAK—And Now-We WRITE #azamkhan #66a #WriteWhatYouFeel

— Hot Gossips (@gossips_hot) March 24, 2015
Whether 'Zee News' or 'The Hindu', they never have to worry about funds. In name of saving democracy, they get money from various sources. We need your support to run this website. Please contribute whatever amount you can afford.
Comments