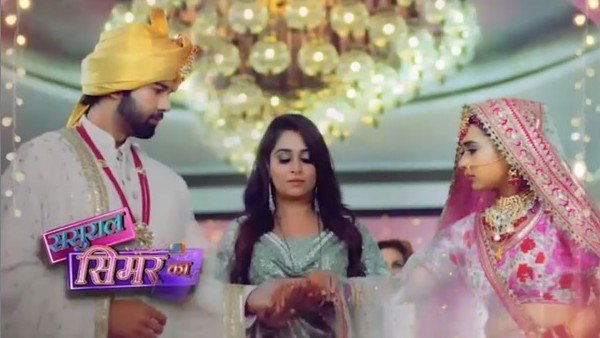 Sasural Simar Ka 2 Spoiler Alert 24 June Episode No : Simar and Aarav are married in Dipika Kakar's well-known TV show 'Sasural Simar Ka 2'. The people of Oswal family are very happy with Simar and Aarav's marriage. Everyone is feeling that due to this marriage, there will be a split between Mataji and Aarav. This is what is happening in the story at the moment. Aarav first went against Mataji and brought Simar to his house and now he is also fully supporting his wife. Everyone knows that Mataji trusts Aarav with his eyes closed. In such a situation, Aarav is knocking in the eyes of the entire Oswal family. Also Read – Sasural Simar Ka 2 Spoiler Alert: Simar will perform the first kitchen ritual, Geetanjali Devi will be stunned
You saw in the serial 'Sasural Simar Ka 2', Aarav (Avinash Mukherjee) rescues Simar (Radhika Muthukuma) from the goons and brings her home. is. On the other hand, Badi Simar (Dipika Kakar) leaves the Auswal family. After coming home, Aarav refuses to give Simar a place in his room. Hearing this, Sinner starts crying bitterly. At the same time, Reema (Tanya Sharma) also leaves Vivaan (Karan Sharma) and comes to her house. Also Read – Yeh Rishta Kya Kehlata Hai: These 5 handsome men had refused to become Karthik, Mohsin Khan's fate was revealed
Reema is still unable to digest the fact that Simar and Aarav are married. is. The next day Aarav's mother asks Simar to perform the first kitchen ritual. Aarav's mother and Simar sneak into the kitchen. Due to this move of Simar, Mataji's anger is going to reach the seventh heaven.
You will see in the serial 'Sasural Simar Ka 2', Mataji will decide that Simar's someone Even the ritual will not be completed now. On the other hand, Simar will prepare breakfast for the family members. Aarav's mother will suspect that Simar is doing something wrong. Aarav's mother will take Simar's stolen clothes. As soon as Mataji comes to know about this she will be furious. Also Read – Sasural Simar Ka 2 Spoiler Alert: Simar will face the fire test again in the name of first kitchen, Aarav will get angry on Mother
Watch Serial 'Sasural Simar Ka 2' Promo-
Mother will say that Simar is not the daughter-in-law of this house. In such a situation, Aarav will come in support of Simar. Aarav will say that after getting married, Simar has become his wife. Mother also has to accept this. Hearing this, Mataji's speech will stop. In such a situation it will be interesting to see whether Mataji will be a part of Simar's first kitchen or not….