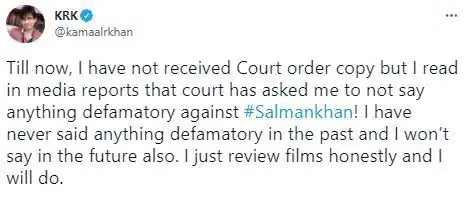 Salman-KRK defamation Case: Kamal R Khan (KRK), who describes himself as the biggest critic of Bollywood, a few days ago Salman Khan's Radhe: Your Most Wanted Bhai (Radhe: Your Most Wanted Bhai) was reviewed, in which he spoke many lewd things about the actor. After this video, a case was filed in the court on behalf of Salman Khan, in which he filed a complaint against Kamal R Khan for harming his brand value through his videos. Also Read – Salman Khan gave Bigg Boss to Radhe's villain
offer? Will show talent to the public through the show
Additional Sessions Judge after hearing the matter CV Marathe has given a verdict against KRK on Wednesday. Judge CV Marathe said many things in his decision, the most important of which is that from now on KRK will not be able to make any video or tweet directly or indirectly on Salman Khan.
The judge has said in the judgment that any person is known by his name in the society, which no one has the right to spoil. This decision, given by the court since morning, has been covered in the media. KRK has tweeted after reading the news of the media and said that he has not yet received the court order. Also Read – Salman Khan defamation case: Court gives shock to KRK, before making video against Radhe Star 10 Have to think twice
KRK wrote in his tweet, 'I have not received the court order yet but I have read in media reports that the court has told me anything about Salman Khan. refused to say. I have never said anything about Salman in the past that would affect his brand value, and I will never say anything like that in the future. I will just review his films honestly. Also Read – Kareena Kapoor Khan's statements had set Priyanka Chopra-Vidya Balan's body on fire, these stars have blown openly A joke!!

KRK In his second tweet, it is written, 'I want to inform the media that I have not received the order yet. Whenever the order of the court comes to me and I am not satisfied with it, I will go to the High Court and the Supreme Court. I will continue to fight for my rights.'