Sadhna Gupta Biography – Age, Family, Married Life, Property And Other Interesting Facts
Sadhna Gupta hails from Vidhuna in Auraiya district of southwest Uttar Pradesh, and is about 20 years younger than Mulayam Singh. In Sadhna hospital, Mulayam's mother used to take care of Murti Devi, when she first met Mulayam Singh. Sadhna and Mulayam Singh are said to have met for the first time in the 1980s.
Before Mulayam Singh, Sadhana had another husband, but their relationship did not last long and got divorced within 4 years of marriage, later she married Mulayam. Sadhna has a son, whose name is Prateek Yadav, this son was born with her first husband. Sadhna has immovable property, a bungalow car worth crores.
According to some sources, when Mulayam Singh married Sadhna and brought her home, Akhilesh did not like this thing at all, and he also opposed his father.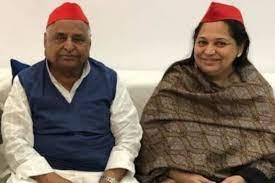 Sadhana Gupta's First Marriage
Sadhna was first married on July 4, 1986, to Chandraprakash Gupta, a resident of Farrukhabad. About a year later, on 7 July 1987, his son Prateek Gupta was born in a district hospital in Fatehgarh. From the next year itself, there was a rift between Sadhna and Chandraprakash and she left her husband in September, after which both of them were officially divorced in 1990.
In 1989, Mulayam Singh Yadav became the Chief Minister of UP for the first time, at that time there was a lot of rumor that Mulayam Singh had two wives, but later this thing was suppressed.
Relationship between Mulayam Singh Yadav and Sadhna Gupta.
This is from the 1980s, when Mulayam Singh's mother Murti Devi was ill and had to be admitted to a hospital in Lucknow for her treatment. When she was treated for the first time in a nursing home and for the second time at Saifai Medical College, both the times she was looked after by Sadhna.
It is about 1982, when Mulayam saw Sadhna for the first time and he was impressed by her, it is said that since then the relationship of both of them started. At that time Akhilesh was a student in the school. After this, as we had told that after Mulayam Singh became the Chief Minister for the first time in 1989, it was also rumored that he had two wives.
In 2016, the CBI had brought out some reports related to the property of Mulayam Singh Yadav, in those reports some facts were revealed about the relationship between Mulayam Singh and Sadhna. According to this, in the time of 1994, Sadhna's son Prateek Gupta had put his address in some form as the permanent address of Mulayam Singh. After this, in the year 2000, the name of Mulayam Singh was filled as the guardian of the symbol.
Mulayam Singh and Sadhana's Marriage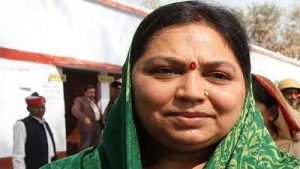 Both were married on 25 May 2003 after the death of Malti Devi, the first wife of Mulayam Singh. But this thing was not revealed much at that time. Mulayam's first wife Malti Devi was a patient of asthma and used to be ill.
The matter of second marriage officially came to the fore in 2007 when Mulayam Singh presented an affidavit in the Supreme Court, in which he confessed that Sadhna Gupta is his wife and Prateek Gupta is his son. Akhilesh Yadav did not like this thing at all and he did not want to include both of them in his family.
Properties of Sadhna Gupta 
Sadhna Gupta has two houses in Lucknow worth around 1.93 crores. Apart from this, he has assets of about 5 crores and this thing came to the fore through Mulayam Singh's 2019 affidavit. They also have good cars. According to the 2016-17 affidavit, in that year, Sadhna had earned Rs 20 lakh on the basis of interest on the money deposited in the bank and the rent of her property.
Now as Sadhna's daughter-in-law Aparna Yadav has joined BJP, she will be happy with this. Now it remains to be seen how Aparna's future political career is. What is your opinion about this? Please do tell in the comment section.
For more Kindly visit – https://hotgossips.in/