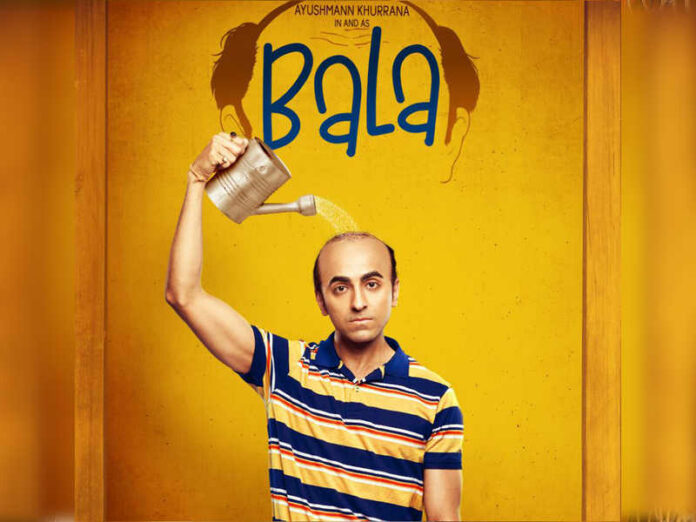 Hindi Cinema is very well known for its good looking, smart and handsome actors. From fit to fine, fair to dark, obese to muscular, we have always seen a wide variety of Bollywood actors. Ayushmann Khurana comes up with a rare story plot with a twist. Bala, (2019) narrates the story of a young man suffering from premature baldness, yet confident about his cinematic dreams. Focusing on the lead actor's daily struggles with constant hair loss, the films revolves around Gaurav Rawat also known as Bala's life story and two very pretty women as a constant part of his
life.
Bala Movie Cast and Crew
Movie name: Bala
Lead Role: Ayushmann Khurana, Bhumi Pednekar, Yami Gautam
Supporting Cast: Javed Jaffery, Seema Pahwa, Saurabh Shukla
Release Date: 7th November, 2019
Director: Amar Kaushik
Producer: Dinesh Vijan
Bala Movie Story line
Bala, the movie releasing in the month of November 2019, projects a unique story line, revolving around the life tragedies of a 30-year old young man, struggling with daily life issues tagged along with premature baldness.
The quirky, unique and short title was given by Ayushmann himself, and was immediately
approved by the director and producer together. The trailer starts with the scene where Ayushmann Khurana is seen promoting a beauty and fairness cream, highlighting the requirement of fair complexioned girl for a marriage.
Bhumi Pednekar and Ayushmann get involved into a small argument which is later followed by constant efforts of retaining and growing back of his hair, by hook or by crook.
Bala's daily life and searching a girl for marriage are under great struggle due to the premature baldness hence the movie projects repetitive efforts of sustaining the hair growth.
With a very few actors who sign up for such bold bald roles are seen in Bollywood. An actor's definition starts with healthy black hair and strong muscular body. Whereas, this movie revolves around an average looking man with very few hair and his life story.
The movie is worth watching, based on tweets and trailer. With Ayushmann's confidence and strong belief, Bollywood fans welcomed the movie with keen interest.
Bala Movie Review by HotGossips
The movie is worth watching. It spreads out awareness and does not harm any one by personally mocking at them. It is a pure comedy movie, with commendable acting of the cast.The lovely duo of Ayushmann and Bhumi makes the movie more interesting. Yami Gautam plays the role of a Tik-Tok star which makes it even hilarious. Overall, the movie keeps the viewer uptight till the end and they leave with a powerful message.