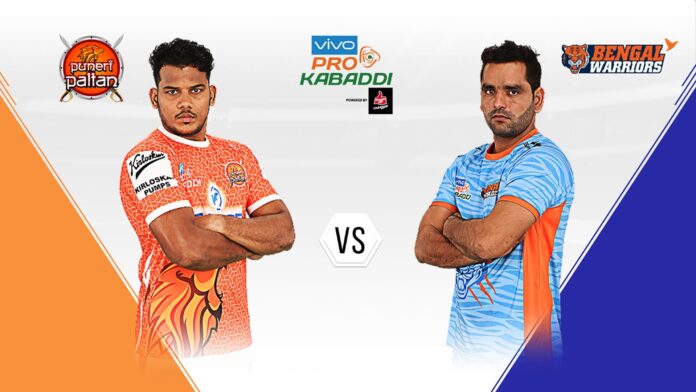 Bengal warriors turned the tables in second half of the game against Puneri Paltan in second half with a score of 43-36 in Pro Kabaddi League. The former Season 7 winners Bengal warriors were behind by 10 points at halftime but defeated Pune who were fighting for a playoffs spot.
Maninder Singh scored a Super 10 (11 points) for Bengal and Mohit Goyal was at the top of the scoreboard for Pune with 15 points. Having 61 points in 21 matches, Pune need to win against Jaipur Pink panthers to secure the playoff spot.
About the match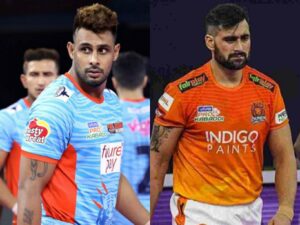 Mohit Goyat and Aslam Inamdar dominated the match against Bengal. Bengal's defences were broken by these two powerful attackers.
In the early minutes of second half, Mahinder started picking up points while Mohammad Nabibakhsh had a stunning Super Tackle. The score were 27-24 favouring Pune with 10 minutes of the game remaining. But eventually Pune faced ALL OUT with 5 minutes remaining in match and giving the lead to Bengal.
Pune again started dominating with Mohit picking up essential points. The score were 32 each with 3 minutes remaining. But in the remaining 2 minutes Rohit secured a 3 point Super Raid to dominate Pune. Sukesh Hedge  raided Pune and left only one player on the mat.
Conclusion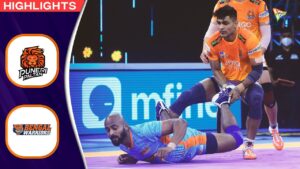 In the last minute Bengal warriors scored All out on Pultan and win the game with the advantage of 7 points.
Tags: Puneri Paltan vs Bengal Warriors, Pro Kabaddi League 2022.