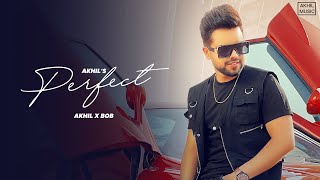 PERFECT LYRICS – AKHIL
| | |
| --- | --- |
| Song Title: | Perfect |
| Performer(s): | Akhil |
| Lyrics Writer(s): | Bob |
| Composer(s): | Bob |
| Director: | Yasheen |
Perfect is an original Punjabi track, and Akhil sung it. Bob came-up with its music, and Yasheen directed music video. Bob penned-down the lyrics for Perfect track released on May 18, 2021.
AKHIL | PERFECT FULL SONG LYRICS
Sawalan Da Jawab Tu,
Kise Shayar Di Kitab Tu,
Oh Mainu Aunde Aa Khyal Hun Tere,
Supne Vi Tere Dekhda Sham Sawere,
Hove Nal Di Seat Te Bethi Mere,
Lage Tu Mainu Perfect,
Jiven Tu Ae Bani Bas Mere Layi,
Koyi Vi Kami Mainu Disdi Nahi,
Lage Tu Mainu Perfect,
Badlan Ton Ni Tu Aayi Lagdi Ni,
Saari Kudiyan Cho Tu Hi Jachdi Ni,
Haaye Ni Haaye Karde Tu Haan,
Dass Main Ki Karan,
Jido Da Dekh Leya Tere Akhan Wich Ni,
Jaan Mainu Lagda Bachdi Ni,
Bin Tere Har Pal Maran,
Dass Main Ki Karan,
Lage Tu Mainu Perfect,
Jiven Tu Hasdi Koyi Gal Dasdi,
Tera Hoya Nasha Kiven Tainu Dassa,
Lage Tu Mainu Perfect,
Bach Bach Ke Tu Chal Hun Sohniye,
Akh Mundeyan Ne Tere Te Tekayi Ae,
Eh Tainu Vi Nhi Pata Hona Heeriye,
Ke Tu Vehle Beth Rab Ne Banayi Ae,
Bob Music,
Perfect (Punjabi) Music Video | Akhil
Let's watch the Perfect's pleasant music video that has video-direction from Yasheen.
Perfect Lyrics by Akhil is the Latest Punjabi song sung by Akhil, and the music of this brand new song is given by Bob. Perfect song lyrics are penned down by Bob and the video is directed by Yasheen.
SONGS FOR YOU