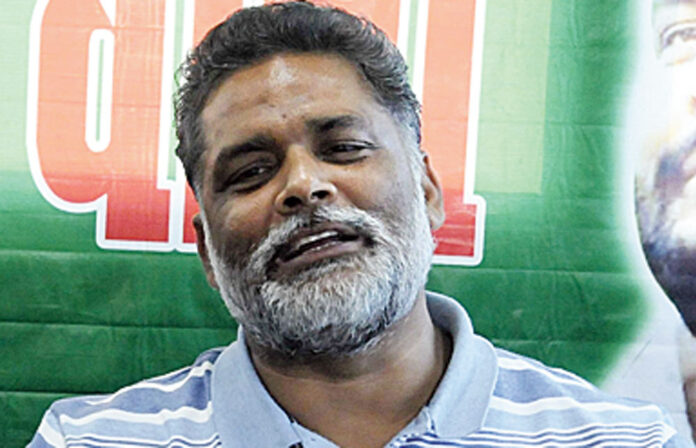 Rajesh Ranjan better known as Pappu Yadav is a Indian politician who won elections to the Lok Sabha in 1991,1996,1999 and 2004 from several constituencies in Bihar as an independent/ SP/ Lok Janata Party/ RJD candidate. Pappu Yadav became one of the best performing MPs in 2015 and is currently the leader of Jan Adhikar party.
Rajesh Ranjan Early Life And Education
Pappu Yadav was born on 24 December 1967 in Bihar, India. He is 53 years old. He belongs to a landowning family in Khurda karbeli village kumarkhand,Bihar.He studied in Anand Marg School, Anand Palli, Supaul. He completed graduation in Political Science from B N Mandal University Madhepura and a diploma in disaster management and human rights from IGNOU. Rajesh Ranjan is his official name but nickname Pappu was given by grandfather in childhood. His wife is Ranjeet Ranjan. She is a member of parliament from Madhepura. His son's name is Sarthak Ranjan who is a T20 player.
Rajesh Ranjan Career
Pappu Yadav was elected to the Bihar Legislative Assembly from singheshwar sthan Madhepura in 1990 as an independent candidate and in 1991 he contested and went to the 10th Lok Sabha from Purnia. He was at various times a member of the Samajwadi party and the Lok janshakti party.
In 2015 Pappu Yadav floated a new party Jan Adhikar Party before the election he campaigned against Nitish-Lalu Alliance. Adhikar party is fighting on 64 seats as the party of socialist secular morcha in 2015 Bihar legislative assembly election.
In September 2020 prior to the Bihar assembly election Yadav floated and new Alliance called people democratic Alliance which contained parties like Bahujan Mukti party and SDPI, Indian Muslim League along with the party of dalit,activist and President of Bhim Army, Chandrashekhar Azad Ravan.
Rajesh Ranjan Controversies
In his autobiography 'Drohkaal ka Pathik' released in November 2013 Pappu Yadav alleged  that three MPs of Indian Federal democratic party got money from the then finance minister Yashwant Sinha, to join the NDA in 2001. He has also claimed that during the July 2008 trust vote, both the Congress and BJP had offered rupees 400 million each 2MP software support. On 17th May 2013 Pappu Yadav was acquitted by the court in Ajit Sarkar murder case of 1998 he was appointed in 2013 from Patna High Court.
Rajesh Ranjan Personal Information
Real Name – Rajesh Ranjan
Nickname – Pappu Yadav
Born – 24 December 1967
Age – 53 Years
Birthplace – Bihar
Wife – Ranjeet Ranjan
Children – Saarthak And Prakriti Ranjan Profession – Politician
Political Party – Jan Adhikar Party