Onam bumper lottery: The fate of a Kerala driver changed overnight. To become a chef, a person going to Malaysia with a loan from the bank won a lottery of Rs 25 crore.
Onam bumper lottery: 'Luck doesn't take long to change, many people have heard this thing, but something similar happened with an auto-rickshaw driver from Kerala. Anup, who hails from Srivarham in Kerala, drives an auto rickshaw and wanted to go to Malaysia to work as a chef. For this, he had also applied to take a loan of Rs 3 lakh from the bank, for which the bank has also given its approval. But Anoop's fate had something else approved. A lottery worth Rs 25 crore went out on his ticket number TJ 750605, bought in Onam Bumper Lottery. Anoop has given up the idea of going to Malaysia after winning the lottery.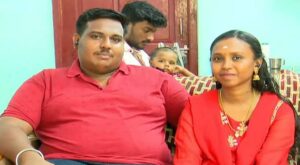 This ticket was not the first choice
Auto driver Anoop told that the ticket on which his bumper lottery has come out was not his first choice. According to news agency PTI, he had earlier bought another ticket, although he did not like this ticket, so he bought another ticket and his luck changed.
Anoop, who is planning to go to Malaysia with a loan, said that after winning the lottery, when the bank's call came today, he told the bank that now he does not need the loan and he is not going to Malaysia anymore.
Was buying tickets for 22 years
Anoop said that he has been buying lottery tickets for the last 22 years and even before that many of his prizes have come out. But it has never been more than a few hundred to more than Rs 5,000. He said that this time I was not expecting to win, so I did not even see its result on TV. However, later when I checked my phone, I came to know that I have won the bumper lottery. I could not believe it so I showed the phone to my wife. He also confirmed that I have won the lottery.
How much money will I get after deducting tax?
Anoop told that after deducting the tax on lottery tickets, he is going to get about Rs 15 crore. Anoop told that he will first build his house with the money won in the lottery and pay off all his debts. After this, some will help relatives and will also do some work in charity. Anoop told that staying in Kerala will start some hotel work.
Auto rickshaw driver won a reward of 12 crores
It is worth noting that last year a bumper prize of Rs 12 crore was also received by an auto-rickshaw driver. His name was Jaipalan PR. He was also an Auto-rickshaw driver
This year the second prize of Rs 5 crore will go to TG 270912, the owner of the ticket. Apart from this, 10 others have won prizes of one crore rupees each. The winning number was selected by the state's Finance Minister KN Balagopal at a lucky draw ceremony held earlier in the day at Gorki Bhavan here.