Nita Ambani is a name that resonates with success, wealth, and kindness. She is an Indian businesswoman, philanthropist, and the wife of Mukesh Ambani, the Chairman of Reliance Industries Limited. Nita has always been an inspiration for women worldwide, especially for those who dream of venturing into the corporate world. She has made remarkable contributions to the growth of Reliance Industries and has also engaged in various philanthropic activities. In this article, we will dig deeper into the life and times of Nita Ambani.
From Homemaker to Billionaire: Her Family Story
Nita Ambani was born on November 1, 1963, in Mumbai, India. Her father was a senior executive in Birla group, and her mother was a housewife. Nita completed her schooling from the Cathedral and John Connon School in Mumbai and went on to pursue her degree in Commerce at Narsee Monjee College of Commerce and Economics. Nita was always interested in dance and became a trained Bharatanatyam dancer at a young age. She got married to Mukesh Ambani in 1985, and her life took a significant turn. Initially, Nita played the role of a homemaker and took care of her family. But, she soon realized her potential and began to contribute to the family business.
Her Education and Beyond: A Woman of Many Talents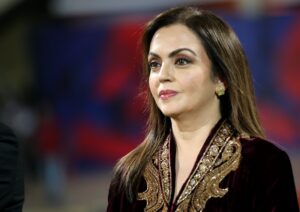 Nita Ambani is a woman of many talents. Apart from being a dancer, she is also a trained classical singer. Her love for art and culture is evident from her contributions to various cultural events in India. Nita has also been actively involved in sports and was the owner of the Indian Premier League team, Mumbai Indians. Under her leadership, the team won several titles. Nita has also been a board member of various organizations, including the Metropolitan Museum of Art, New York. She is also the Founder and Chairperson of the Reliance Foundation, which focuses on healthcare, education, and socio-economic development.
The Charitable Side of Nita Ambani: Giving Back to Society
Nita Ambani is a true philanthropist. She strongly believes in giving back to society and has been actively involved in various charitable activities. The Reliance Foundation has played a significant role in developing various communities in India. It has initiated projects like the Dhirubhai Ambani Hospital, the first hospital in India to have received the Platinum LEED (Leadership in Energy and Environmental Design) Certification. The Foundation has also contributed to various relief efforts during natural calamities like floods, cyclones, and earthquakes. Nita has also focused on promoting education and has been instrumental in setting up schools and colleges in rural areas.
OUTRO
Nita Ambani is an epitome of grace, strength, and kindness. She has defied all odds and has emerged as a successful businesswoman, entrepreneur, and philanthropist. Her contributions to the growth of Reliance Industries Limited and her charitable activities have not gone unnoticed. Nita has been an inspiration to many who aspire to make a difference in society.