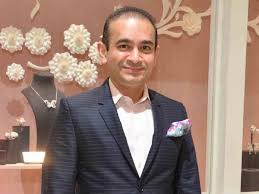 Nirav Modi Biography Age, Family, Education, Early Life, fraud, Career, Wife, Person Information
Nirav Modi is an Indian Businessman charged by Interpol and the Government of India for criminal conspiracy. He has the nationality of Belgian and known for the Diamond business Bank fraud. Nirav Modi is being investigated as a part of the $2 billion fraud case of Punjab National Bank.
Early life and family
Nirav Modi was born on 27 February 1971 in Gujarat and grew up in Antwerp, Belgium. He completed his education from Wharton School of the University of Pennsylvania. His wife's name is Ami Modi and he has three children. His uncle is Mehul Choksi. His partners are Mehul Choksi, Nishal Modi and Parab Subhash Shankar. His family has been in the Diamond business for several generations and his father Deepak Modi moved to Mumbai to work in his uncle's business.
After moving India in 1989 and training in all aspects of the Diamond trading business, He founded Firestar in 1999,a Diamond Sourcing in trading company.
In 2002 his company started manufacturing jewellery on a contract basis.In 2008 a close friend asked to Nirav Modi to make a pair of earrings after which he created the brand. In 2010 he launched a diamond store bearing his name in New Delhi's Defence Colony, followed by one in Mumbai's is kala ghoda. Nirav Modi launched goobally with boutiques in New York city and Hong Kong in 2015 and one in MGM Macau in 2016.
Fraud by Nirav Modi
In February 2018 the Indian government Central Bureau of Investigation launched an investigation of Modi acting on a complaint from the Punjab National Bank alleging Modi and his partner's defrauded the bank of rupees 28000 crore by conspiring with bank officials to fraudulently obtain letters of undertaking for payments to Overseas suppliers.
The enforcement directorate is looking into a case of fraud that the CBI has registered against Nirav Modi.Interpol and the Government of India charged against Nirav Modi for criminal conspiracy, criminal breach of Trust, cheating and dishonesty including delivery of property, corruption, money laundering, fraud and breach of contract. In August 2018.In 2019 Swiss authorities have frozen a total no of 6 million US dollars present in Nirav Modi Swiss bank accounts along with the assets. On 8th June 2020 the prevention of money laundering act Court ordered a confiscation of nearly rupees 14000 crore worth property of Nirav Modi.
Personal Information
Name – Nirav Modi
Father – Deepak Modi
Born On – 27 February 1971
Birth Place – Palanpur Gujarat
Nationality – Belgian (Indian Formerly)
Wife – Ami Modi
Children – 3
Relatives – Mehul Choksi
Status – Most Wanted
Disappeared – 2018
Years Active – 1999 – 2020
Organisation – Firestar Diamond
International,
Gitanjali Group,
A.Jaffe Inc.
Criminal Status – Arrested In London 20 March                                  2019
Victims – Union Bank Of India,
Punjab National Bank,
Paul Alphonso
Locations – Dubai
Hongkong
London
Singapore
'$'