The Hindu religion's auspicious holiday of Navratri is celebrated with great enthusiasm. Navratri occurs four times a year. Two Navaratras are celebrated in secret, while the other two are celebrated in public. This celebration take place over the period of nine days. During this time, Maa Durga's Nine forms are worshipped. The Hindu New Year begins on the day of this festival. On the Ashtami and Navami days of Navratri, there is also a practise of worshipping girls. Find out which Navratri falls on which day and when Kanya Puja will be performed.
Navratri

DAYS

DATE
DAY

MATA NAME

1st/Pratipada

2nd April 2022
SATURDAY
 Maa Shailputri

2nd/Dvitiya

3rd April 2022
SUNDAY
Maa Brahmacharini
3rd/Tritiya
4th April 2022
MONDAY

Maa Chandraghanta

4th/Chaturthi

5th April 2022
TUESDAY
Maa Kushmanda
5th/Panchami
6th April 2022
WEDNESDAY

Maa Skandamata

6th/Shashti
7th April 2022
THURSDAY

Maa Katyayani

7th/Saptami

8th April 2022
FRIDAY
Maa Kalaratri

8th/Ashtami

9th April 2022
SATURDAY

Maa MahaGauri

9th/Navami
10th April 2022
SUNDAY

Maa Siddhidatri

10th/Dashami

11th April 2022

MONDAY
NAVRATRI COLORS

DAY

COLORS
DAY 1

RED

DAY 2

ROYAL BLUE

DAY 3

YELLOW

DAY 4

GREEN

DAY 5

GREY

DAY 6

ORANGE

DAY 7

WHITE

DAY 8

PINK

DAY 9

SKY BLUE
Every year, the Pratipada tithi marks the start of Chaitra Navratri.The pratipada tithi for Chaitra Navratri 2022 begins on April 1 at 11:53 a.m. This will be in effect until April 2nd at 11:58 a.m.
The Kalash sthapana, as well as the most auspicious hour of the navratri, will be from 6:22 am to 8:31 am on April 2. Those who do navratri puja and fast can perform the Kalash sthapana or the ghatasthapana at this time, which should last at least 2 hours and 9 minutes.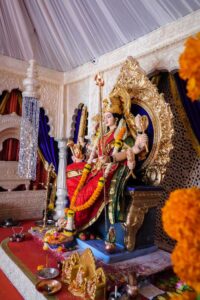 Hindus celebrate the goddess Durga's win over the demon Mahishasura during Navratri. Because of his devotion to him, a more powerful God, Lord Brahma, had granted Mahishasura the gift of immortality, which meant he would never die. However, there was one condition involved to this gift: only a woman would be capable of defeating Mahishasura. Mahishasura was pleased with the bargain since he didn't believe any woman could kill him. He misjudged the power of women. Mahishasura and his soldiers grew into a powerful force attacking humans on Earth throughout time, and no gods were able to stop him. Finally, the three most powerful Hindu gods, Lord Brahma, Lord Vishnu, and Lord Shiva, agreed to join forces and create the goddess Durga, a mighty woman whose aim would be to defeat Mahishasura. Before going into combat with Mahishasura, the gods bestowed several weapons upon the new goddess Durga. Durga fought the demon for ten days, and it was a difficult battle since the monster kept changing his appearance to confuse the goddess. But finally she was able to kill him when transformed into a buffalo.
We live in a fast-paced world where there is little time for oneself. The nine days of Navratri are said to dissolve a year's worth of exhaustion and restore mental calm. If one is careful to eat a sattvic diet and meditate consistently, a complete body-mind detox may be accomplished in as little as nine days.
Tags: Navratri 2022, Navratri 2022 Date, Navratri 2022 Color, Navratri 2022 Time, Navratri 2022 History, Navratri 2022 Significance