'Navratri' in Sanskrit translates to 'nine nights'. Indians all across the world celebrate these nine nights with full fervor and great enthusiasm. These nine nights of festivities are marked with ritualistic fasting, poojas while adopting a calm and meditative lifestyle. This Hindu festival is dedicated to Goddess Durga and her 9 avatars. On each of these nine days, Hindus worship the nine different manifestation of Durga or Shakti. The 'Nav Durga' or the 'Nine Forms of Durga' are pleased with special offerings and prayers. The significance of Nav Durga is narrated and reiterated in every Hindu household especially during the Navratris as this is the time when Goddess Durga descends from the heaven to bless her beloved devotees.
Here are the nine manifestations of Goddess Durga that are worshiped on each day of Navratri
NINE GODDESS DURGA
Goddess Shailputri
The first manifestation of Durga is Goddess Shailputri. According to scriptures, she holds a trishul and a lotus in her hands, and rides a bull called Nandi. As per Shivpurana, Goddess Shailputri in her previous birth was born to Daksha Prajapati, and was named 'Sati'. Deeply devoted to Lord Shiva ever since her childhood, Sati meditated earnestly to beget Lord Shiva as her consort. Lord Shiva bestowed upon her the desired boon and accepted her as her consort. The union was not accepted well by Sati's father Daksha Prajapati, who insulted Shiva by not inviting him in one of his special gatherings. Infuriated upon the humiliation meted out to her husband, Sati immolated herself and sacrificed her life in honour of her husband. In her next birth Sati was born as a daughter to Himalaya, the Lord of Mountains and thus, was called Shailputri. Sailputri is also worshiped as Parvati or Hemvati. The first day of Navratra is dedicated to worshiping Shailputri. Devotees offer pure desi ghee on the foot of Shailputri. An offering of pure ghee is said to bless the devotee with a life free of diseases and illness.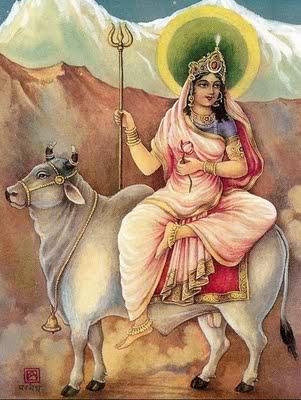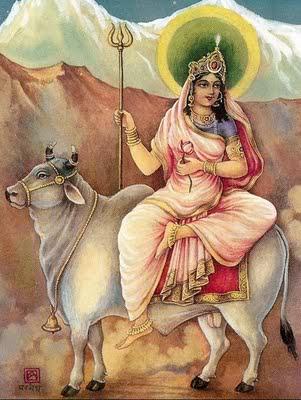 Goddess Brahmacharini
When she took birth as the daughter of Himalaya, Mata Parvati realizes about her divine love toward Mahadev.Rishi Narad advises her  to follow customs and rituals of rigid Tapasya of long eras in order to obtain Lord Shiva as her divine consort. Due to her unearthly and difficult penance she was glorified with the name 'Brahmacharini' .For thousands of years, she spent only on fruits and beet-roots.During her unearthly penance and  complete fast she suffered tormenting of nature like torrential rains and scorching sun and biting cold, under the open sky.It is also believed that she continued  till thousands of years and ate only bilva leaves to survive due to which her body became extremely lean and thin. The whole universe was shaken.Ultimately Lord Brahma addressed her and blessed her that she will decidedly get Lord Shiva as her divine consort.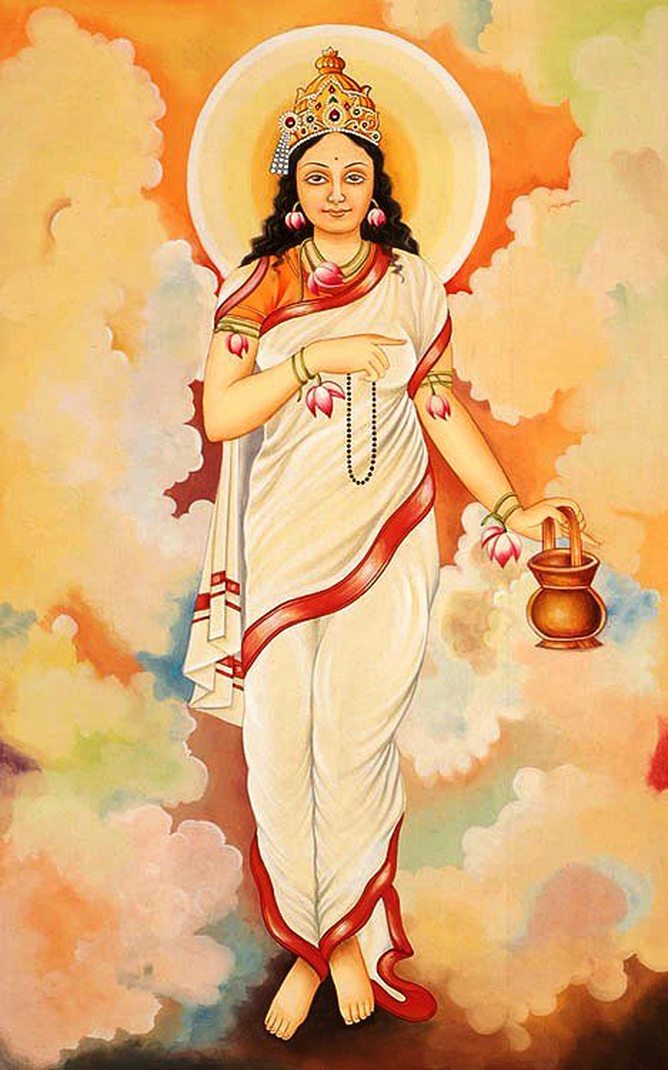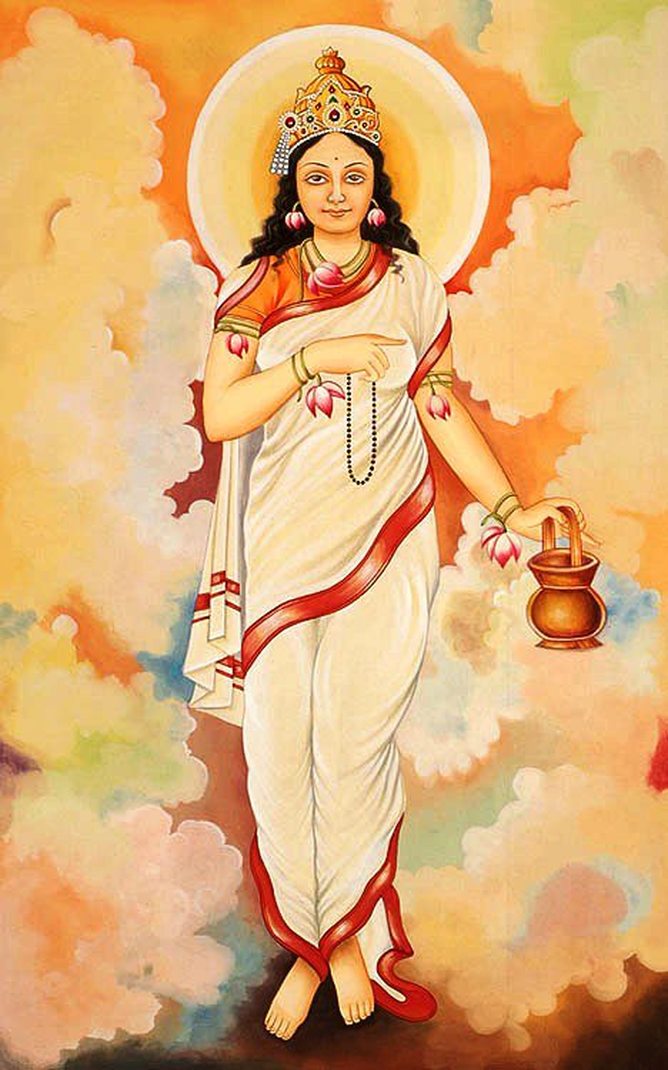 Goddess Chandraghanta
The third form of Maa Durga is named Chandraghanta. His head has an hour-sized crescent moon, which is why it is called Chandraghanta. The mother sits on Chandraghanta Singh. Mother Chandraghanta Devi's form is radiant like gold. Mother Goddess has ten arms and ten hands have a sword, arrow. There is a garland of white flowers around the neck of the mother Chandraghanta.
It is believed that by worshiping the mother Chandraghanta, the mother takes away all the sins of the devotees and destroys the barriers between her work. The mother is riding on Chandraghanta Singh, so one who worships her becomes mighty and fearless. The crescent moon is adorned on the forehead of the mother Chandraghanta, so her worship not only brings humility in nature, but also increases radiance in the face, eyes and entire body. According to astrologers, the people whose drama is weak. They get special benefit from this worship.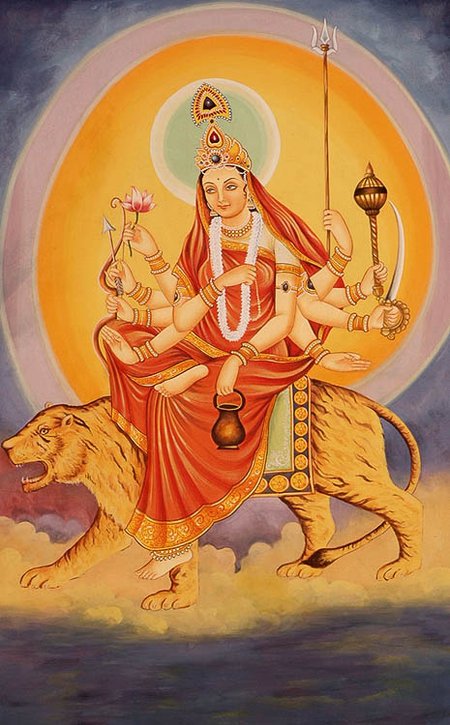 Goddess Kushmanda
On the fourth day of Navratri, Goddess Kushmanda is worshipped. The name Kushmanda is made of three other words 'Ku' (little), 'Ushma' (warmth or energy) and 'Amnda' (egg) which means the one who created the universe as the "Little Cosmic Egg" with energy and warmth. According to Hindu scriptures, the universe was a dark space and it was Goddess Kushmanda who produced the Cosmic Egg with her smile. Devotees worship the Goddess by observing fasts and offering Malpua.
 Goddess Skandmata
Goddess Skandamata is portrayed as holding Lord Skanda in his infant form through her left hand and a lotus in her right hand. She has four arms, three eyes and a bright complexion. She is also called as Padamasani since she is often depicted as seated on a lotus flower. She is also worshiped in the form of Parvati, Maheshwari or Mata Gauri. The left arm of the goddess is in a pose to grant boons with grace to her devotees.Goddess Skandmata's story is quite an interesting one. Legend says that Tarkasur, a great demon, once pleased Lord Brahma with his great devotion and tough penance. He asked Lord Brahma to shower his blessings and make him immortal. However, Lord Brahma denied, saying no one can escape death. But Tarkasur acted smart and asked for a boon that no one accept the son of Lord Shiva can kill him, since he thought Lord Shiva would never get married.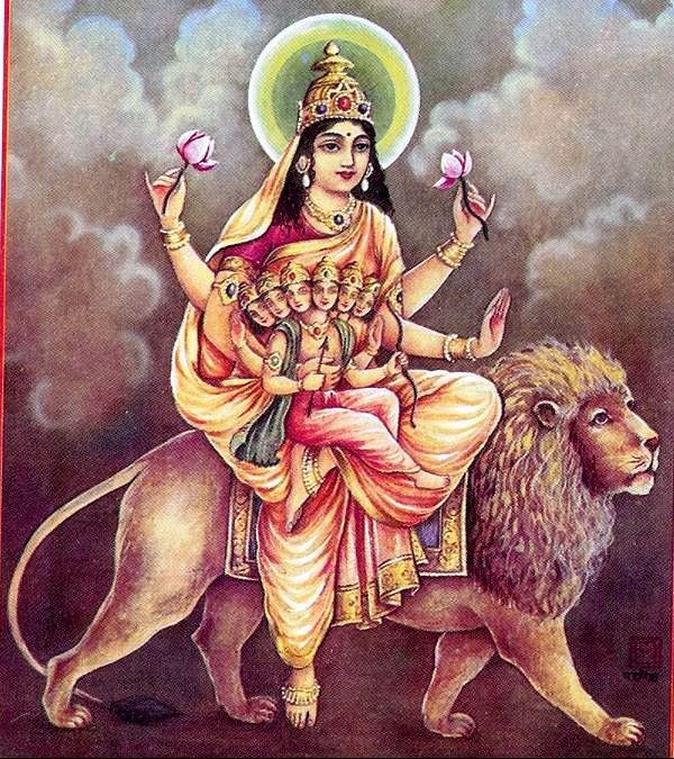 Goddess Katyayani 
Worshiped on the sixth day (Shashti) of Navratris, Goddess Katyayani is a form of Shakti who is depicted as having four arms, and carrying a sword. She rides a lion, and can be pleased with true devotion and piety. She is the daughter of Sage Katyayan. Devotees offer honey as prasad to Goddess Katyayani. Her blessings fill their lives with sweetness and help them get rid of bitter troubles.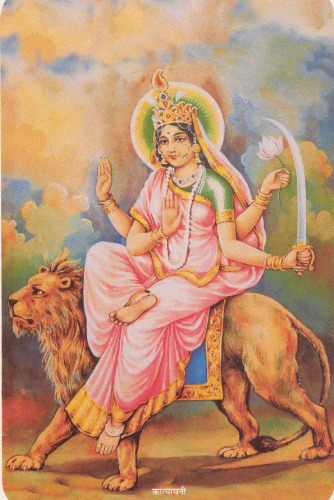 Goddess Mahagauri
Durga Asthami or the eight day of Navratris is dedicated to Goddess Mahagauri. As per the scriptures, Mahagauri worshiped as the four-armed deity who rides on a bull or a white elephant. She carries a trishul and a damru. When Parvati decided to go on an austere penance to beget Lord Shiva as her consort, she renounced all comforts and lived in a forest for deep meditation. Her meditation continued for several years – braving heat, cold, rain, and terrible storms. Lord Shiva, impressed by her deep penance, appeared before her and showered the holy water of the Ganga over her. The Gangajal washed off all the dirt. She regained her natural beauty and came to be known as Mahagauri. Goddess Mahagauri  is offered coconut as bhog by devotees.  It is widely believed that donating coconuts to the Brahmans on Ashtami, blesses a childless couple with a child.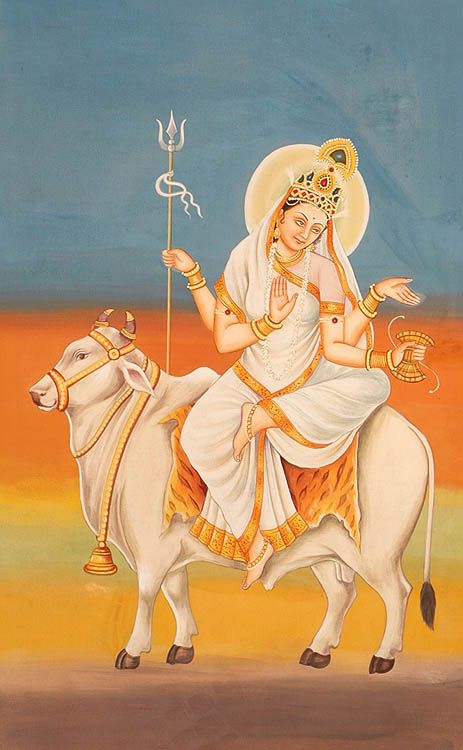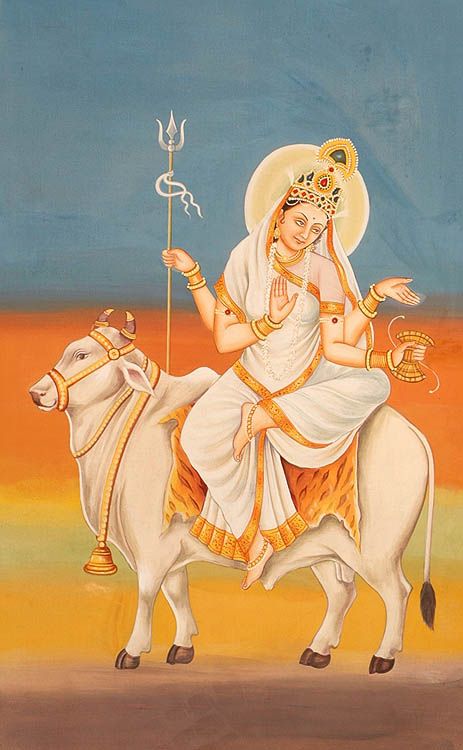 Goddess Siddhidatri
According to Hindu Shastras like Markand Puranas, this Goddess helps devotees in attaining perfection in Mahima, Garima, Ladhima, Prapti, Prakaamya, Ishitya and Vashitva. According to Brahmavaivart Purana, the Devi can bestow 18 different types of siddhis or perfections. These siddhis are Mahima, Garima, Ladhima, Prapti, Prakaamya, Ishitva and Vashitva sarvakaamaal, Saadhita, Sarvagynatva, Amaratva, Sarvanyayakatva, Bhavana and Siddhi.  Worshiping Maa Siddhidatri wholeheartedly heart helps devotees attain perfection along with happiness and purity of heart.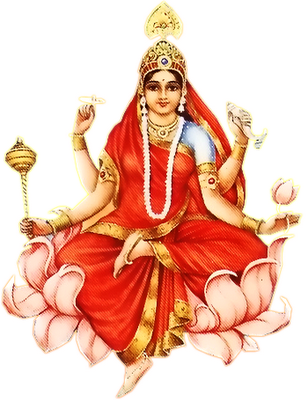 Navratri has great importance in Hinduism. The Shardiya Navratri is starting from Sunday, September 29 this year. In these 9 days of worshiping Goddess Durga, there is a law to worship her different 9 forms. The special thing is that during these nine days, the devotees of the mother also make up the nine forms of the mother by wearing costumes of different colors. Kalash establishment, in addition to the adornment of Maa Durga, there is a special significance and some rules for worshiping in different colors during these 9 days. The mother blesses her devotees to fulfill all their wishes and fulfill their wishes. Let us know which auspicious colors should be worn every day to get the blessings of Mother Durga.  
COLOUR FOR NAVRATRI
Shailputri –
The first day of Navratri is of Pratipada. On this day, Shailputri, the first form of Maa Durga, is worshiped. Wearing yellow clothes while worshiping on this day provides benefits.
Brahmacharini –
Wearing green clothes while worshiping Mother Brahmacharini on the second day of Navratri is beneficial.
Chandraghanta –
Chandraghanta is worshiped on the third day of Navratri on the third form of Mother Durga. On this day, worshiping mother Chandraghanta in gray (gray) colored clothes, your spoiled work starts.
Kushmanda –
The fourth day of Navratri is considered extremely sacred. On this day, the fourth form of Durga Maa is worshiped by Kushmanda. Mata Kushmanda loves orange color, so while worshiping her, she should be worshiped by wearing orange colored clothes.
Skandmata- On 
the fifth day of Navratri, Mother Skandamata is worshiped by wearing white colored clothes. All the desires of a human being are fulfilled by worshiping the mother with reverence.
Katyayani- 
The sixth form of Durga Maa is Mata Katyayani. Devotees should worship Goddess Rani by wearing red clothes on this day.
Kalratri-
It is considered auspicious to worship Mata Kalratri on the seventh day of Navratri wearing blue clothes.
Mahaguri-
day Astami mahagauri worship is pink clothes do good.
Siddhidatri- On
the ninth and last day of Navratri, the rule of worshiping mother Siddhidatri is wearing purple clothes. Mother worships Siddhidatri and blesses the devotee with fulfillment.
Whether 'Zee News' or 'The Hindu', they never have to worry about funds. In name of saving democracy, they get money from various sources. We need your support to run this website. Please contribute whatever amount you can afford.