What is Monkeypox virus?
The monkeypox virus is an orthopoxvirus that causes a condition that is comparable to smallpox but less severe. Monkeypox is present in Central and West African nations, while smallpox was eliminated in 1980. The West African clade and the Congo Basin clade, sometimes known as the Central African clade, have been identified.
What are the Symptoms Of Monkeypox virus
Symptoms Of Monkeypox are as follows:
The sickness lasts two to four weeks on average, with symptoms appearing five to 21 days after infection. Fever, headaches, muscular pains, backache, chills, tiredness, and enlarged lymph nodes are common symptoms of monkeypox.
According to the World Health Organization, the latter symptom is often what helps doctors distinguish monkeypox from chickenpox or smallpox.
The major characteristic of monkeypox, a terrible rash, develops one to three days after you have a fever, generally starting on the face and spreading to other areas of the body.

Monkeypox Symptoms p.c: livemint
Monkeypox virus Treatment  
Smallpox vaccination with a first-generation vaccinia-virus-based smallpox vaccine was previously proven to be 85 percent effective in preventing monkeypox. Those who were vaccinated against smallpox as children, as well as health workers and laboratory employees, may still be protected against monkeypox.
Patients with monkeypox receives treatment based on their symptoms. Several drugs that might be beneficial against the monkeypox virus are being researched and tested.
The majority of human monkeypox infections are transmitted from animal to human. All items containing animal flesh or parts should be properly prepared before consuming, and contact with ill or deceased animals should be avoided.
Avoid coming into contact with diseased persons or contaminated objects. When caring for the ill, whether in a health institution or at home, gloves and other personal protective clothing and equipment should be used.
Where does monkeypox virus originated from?
Monkeypox (Origin – Africa) is a zoo illness, meaning it is spread from animals to people. Cases are frequently discovered near tropical rainforests where the virus is carried by animals. Squirrels, Gambian poached rats, dormice, several monkey species, and others have all been shown to be infected with the monkeypox virus. Read other details about Monekypox that are given by WHO.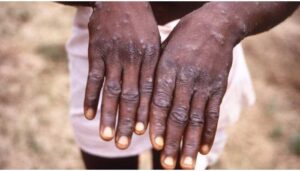 Monkeypox virus case in UK (United Kingdom)
The UK's health officials have identified a case of monkeypox virus, a rare viral infection related to smallpox, in a person who just travelled in from Nigeria. According to the UK Health Security Agency (UKHSA), the patient is getting expert care in an isolation unit at Guy's and St Thomas' infectious disease hospital unit in London. The UKHSA did not disclose the person's gender or age, but said it was seeking to identify anyone who had close contact with the infected patient, including passengers on the same aircraft.