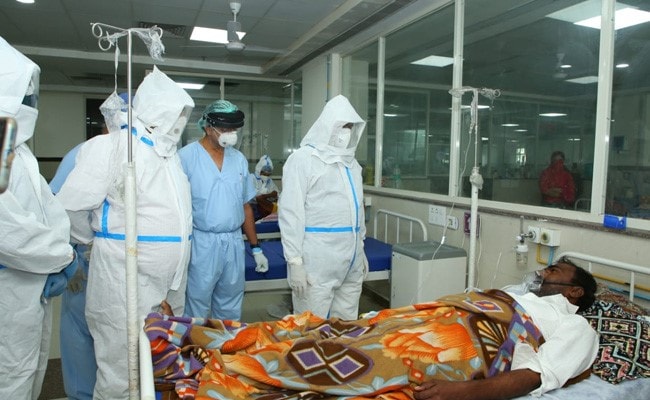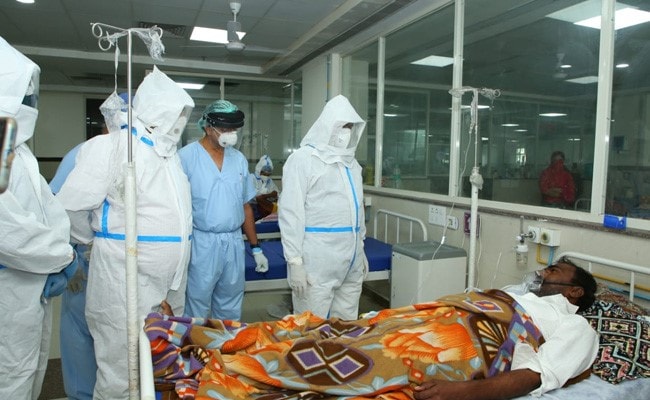 New Delhi:
Lok Sabha Speaker Om Birla, who arrived on a seven-day stay of Kota-Bundi parliamentary constituency, went straight to New Medical College as soon as he reached Kota on Tuesday. There he and his OSD Rajiv Dutta arrived among the Covid patients wearing a PPE kit. He asked the patients about their health and said that they should keep up the courage, they will get well soon. Many patients could not recognize Lok Sabha Speaker Birla due to wearing PPE kit. When the Principal of the Medical College, Dr. Vijay Sardana introduced him, the patient and the Timardar were shocked. He said that he could not expect the Speaker of Lok Sabha to come here when he is afraid of coming out for fear of his own infection.
Lok Sabha Speaker Birla talked to many patients who went to the three wards. Birla asked him to know about his condition, period of hospitalization and inquired about his oxygen level. Birla asked all the patients to maintain courage within themselves. The doctors are giving them good treatment, they will get well soon. He asked the patients and the Timardars to contact the camp office if any help is needed. They will be helped in every way possible.
Taking the risk and doing virtuous work, thank you
Birla also spoke to doctors, medical workers, scavengers and other employees working in the Covid wards. Birla encouraged him and said that you are taking risks and serving the corona infected patients. Many lives have been saved by this virtuous work of yours. The amount of congratulations and thank you for this service is less.
Should any disease occur, our preparation should be strong
Lok Sabha Speaker Birla held a meeting with District Collector Ujjwal Rathore and Medical College Management in Super Specialty Wing and reviewed the treatment facilities. Birla said that our preparation should be so comprehensive that no matter how big a disease comes, we can control it. For this, it is necessary that we also strengthen the medical facilities at the CACHI and PHC level in rural areas so that the villagers can be provided proper treatment there. During this, Ramganjmandi MLA Madan Dilavar and Kota South MLA Sandeep Sharma were also present.
Displeasure over not increasing ICU bed
In the meeting, Lok Sabha Speaker Om Birla expressed displeasure over not increasing ventilator, ICU and oxygen beds despite adequate availability of oxygen. He said that due to the fear of lack of oxygen, the hospital administration did not increase the beds, while he had assured many times that he would not allow the lack of oxygen. Due to lack of beds, many patients died due to lack of treatment. We could not save those people, its pain will remain in my heart all my life.
People have to be saved from black fungus
The Lok Sabha Speaker said that along with Corona, now we are also facing the challenge of black fungus. It is worrying to see a large number of cases of black fungus. He informed that the central government is making serious efforts for the availability of Amphotericin-B required for its treatment. Local companies have been instructed to increase its production. Large quantities of injections are also being imported from abroad. There will be adequate availability of injections soon. He suggested that a panel of expert doctors be prepared for the treatment of black fungus.
Increase testing, contact tracing in villages
Doctors told in the meeting that the positivity rate in quota is still around 13 percent. A large number of patients are also coming from rural areas. On this, Birla expressed concern that special efforts should be made to control corona in the villages. We should increase testing in villages, where more patients are coming out and declare the area as a container zone and provide proper treatment to the Kovid patients. Contact tracing should also be emphasized here. Only by making such efforts will we be able to break the chain of corona infection and will be successful in reducing the cases of Covid.
Find out where you need an ambulance
Lok Sabha Speaker Birla said that there is a need to improve the medical infrastructure at health centers in rural areas. Today, there are many villages where ambulances are not even available to take serious patients to a large hospital. He asked the District Collector to find such health centers where ambulances are required. Along with this, when the case of Kovid reduced, he also asked the staff called for quota on deputations to be sent to their health centers so that villagers could get counseling near their home.