Lalit Modi's Biography – Age, Life, Wife, Affaire, Family, Earning, Etc.   
Lalit Kumar Modi is a cricket administrator and Indian businessman. He was a founder, first chairman and commissioner of Indian Premier League (IPL), and ran the tournament for 03 years until 2010.
Modi announced on his Instagram in July 2022 that he was dating with Sushmita Sen the first Indian Miss Universe actress.
Lalit Modi clarified in his tweet that both are not married yet, just dating. He tweeted, "Not married – just dating each other. That too will be one day soon."
Lalit Modi gone abroad and left India in 2010 amid an investigation into tax evasion and money laundering related to the IPL. He has been lives in London since then.
He also served as the president of the Champions League and was the Vice President of the Board of Control for Cricket in India (BCCI), also the President of the Rajasthan Cricket Association and the Vice President of the Punjab Cricket Association.
Lalit Modi Quick Info
Name – Lalit Kumar Modi
Birthday – 29 November 1963
Birth Place – Delhi, India
Age – 58 Years (Year 2022)
Education – Electrical Engineering and Business Administration degree
School – Bishop Cotton School, St. Joseph's College
College – Pace University, Duke University
Zodiac – Leo
Citizenship – Indian
Hometown – Delhi, India
Religion – Hinduism
Height – 5 feet 7 inches
Weight – 70 kg
Eye Color – Black
Hair Color – Black
Profession – Indian Businessman and Cricket Administrator
Marital Status – Married
Marriage date – 17 October 1991
Girlfriend – Sushmita Sen
Birth and early life of Lalit Modi
Lalit Modi was born on 29 November 1963 in Delhi as the eldest son of father Krishna Kumar Modi and mother Bina Modi.
He has an elder sister, Charu Modi Bhartia and a younger brother, Sameer Modi. His grandfather Gujar Mal Modi founded the Modi Group business group and the city of Modinagar.
Lalit Modi Education
Lalit Modi started his schooling from Bishop Cotton School in Shimla in 1971. His family later took him to St. Joseph's College, Nainital due to the threat of kidnapping.
In 1980, after leaving school to watch the film, he was expelled from St. Joseph for Truancy.
From 1983 to 1986, Modi studied electrical engineering and business administration in the United States. He attended Pace University in New York for two years and then Duke University in North Carolina for a year.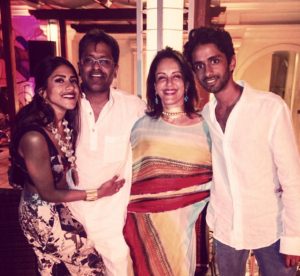 Lalit Modi Family
Father's Name – Krishna Kumar Modi
Mother's Name – Bina Modi
Brother – Sameer Modi
Sister – Charu Modi Bhartia
Ex-Wife (Ex-Wife) – Minal Modi (Died in 2018)
Children's – Son : Ruchir Modi, Daughter : Alia Modi
Lalit Modi Marriage, Wife
Prior to Modi, Minal was first married to a Saudi Arabian man named Jack Sagarani, who traveled from Nigeria to London and later worked in Saudi Arabia for Inlaks, owned by Indu and Lakshmi Shivdasani .
When Minal was pregnant, Sagarani was embroiled in a scandal and spent several months in prison in Saudi Arabia.
Moreover, he was unable to meet his wife even after giving birth to their daughter Karima in London. She gave birth in London and later moved to Delhi.
Meenal allegedly befriended Modi's mother Bina in Delhi. She used to meet Lalit Modi frequently. However, when they married each other in 1991, there was a lot of talk about their age difference. Minal was ten years older than Modi.
Minal had two children from Modi. The couple had a daughter named Alia in 1993 and a son named Ruchir in 1994. Meenal was diagnosed with cancer around the 2000s. He passed away in 2018 at the age of 64 after battling cancer.
Lalit Modi Careers
He joined the family business in 1986. He became president of the International Tobacco Company Limited in 1987, a position he served until 1991.
Lalit Modi became the non-independent and non-executive director of Godfrey Phillips India.
In 1992, he became the executive director of the company, one of the largest tobacco companies in India. He founded Modi Entertainment Network in 1993. It was a joint venture with Disney Pictures, where it aired Disney content in India.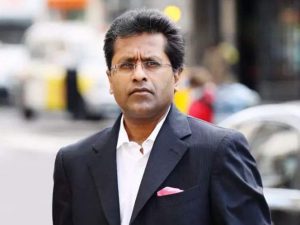 He used his political influence to become the President of RCA and became the Vice President of BCCI. He was instrumental in launching the Indian Premier League, a league based on T20 cricket, in India.
It became one of the largest sports leagues in the world, with an estimated net worth of over $4 billion. He was named the second most powerful person in Indian sports by Sports Illustrated in 2010.
Removal of Lalit Modi from BCCI and cheating
On 16 April 2010, representatives of the Kochi franchise complained to the BCCI that Lalit Modi had threatened them to leave the franchise.
On 24 April, a day after the IPL final, Modi was suspended by the BCCI on 22 charges.
These include bypassing the governing council when making decisions, not following proper procedures, rigging bids, awarding contracts to friends, accepting bribes on a broadcast deal, selling franchises.
Soon after his suspension, Modi moved to London, where his wife Minal's family lived. In London, he hired Carter-Rook to fight the BCCI's allegations, and sent his own defamation notices.
He also spent time expanding his family business in Europe. Modi believed that N Srinivasan, who later became the BCCI president, had masterminded his ouster from the BCCI.
In 2012, Modi alleged that Srinivasan had fixed the auction for Andrew Flintoff in 2009. He also supported Aditya Verma, secretary of the Bihar Cricket Association, who was fighting a separate legal battle against Srinivasan.
Lalit modi and Sushmita sen affair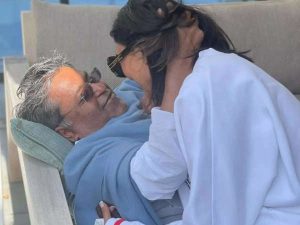 Indian Premier League's first president Lalit Modi today announced a "fresh start" with actor Sushmita Sen.
Describing Sen as his life partner, Lalit Modi sparked speculation among his fans whether the two were married. Spoiler alert: they are not.
Lalit Modi clarified in the next tweet that both are not married yet, just dating. He tweeted, "Not married – just dating each other. That too will be one day."
Lalit Modi left India in 2010 amid an investigation into tax evasion and money laundering related to the IPL. He has been in London since then.
Sushmita Sen had announced her separation from model-actor Rohman Shawl in December last year. She is a single mother of two daughters Alisa and Renee. Ms. Sen adopted Renee in 2000 while Alisa joined the family in 2010.