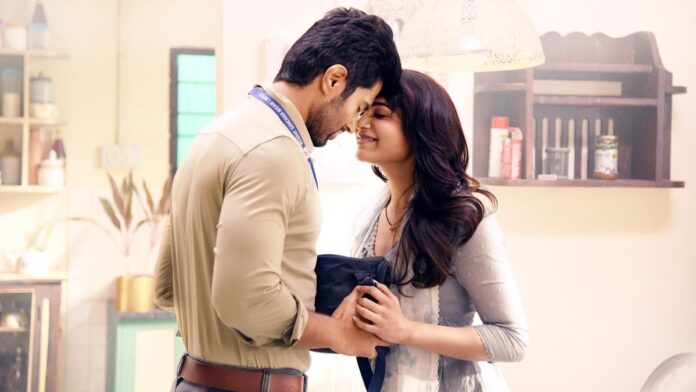 Starring: Vijay Deverakonda, Samantha, Jayaram, Sachin Khedakar, Murali Sharma, Lakshmi, Ali, Rohini Molleti, Vennela Kishore, Rahul Ramakrishna, Srikanth Iyenger, Saranya Pradeep
Director: Shiva Nirvana
Producers: Naveen Yerneni, Ravi Shankar
Music Director: Hesham Abdul Wahab
Cinematographer: G. Murali
Editor: Prawin Pudi
Trailer:
Lately, the film "Kushi" has generated considerable buzz due to its music. Starring Vijay Deverakonda and Samantha, this rom-com, directed by Shiva Nirvana, known for his heartwarming films like "Majili" and "Ninnu Kori," received effective promotion. The film has just hit the screens, and let's explore its storyline.
Plot:
Viplav (played by Vijay Deverakonda), an employee at BSNL, instantly falls for Aaradhya (Samantha) upon their first encounter. However, Aaradhya pretends to be a Pakistani Muslim to deter Viplav's advances. Eventually, Aaradhya falls for Viplav and reveals her true identity as a member of a conservative Brahmin family. Unbeknownst to them, their fathers, Lenin Satyam (Sachin Khedekar) and Chadarangam Srinivasa Rao (Murali Sharma), have a longstanding feud. Viplav and Aaradhya decide to marry against their parents' wishes, leading to unexpected challenges in their married life. Resolving these issues becomes the central focus of the story.
Positives:
The film explores common and relatable relationship issues without introducing any groundbreaking concepts. These issues are depicted in a light-hearted manner in the second half of the film. The conflict is complemented by excellent music and visually appealing cinematography.
The interactions between the lead characters in the latter part of the movie are likely to resonate with family audiences, even though the scenes themselves aren't entirely novel. Vijay Deverakonda's portrayal of Viplav is outstanding, as he effectively sheds his mass image to suit the character's demands. He maintains a stylish and charismatic presence throughout the film, showcasing impeccable comedic timing and heartfelt performances in crucial scenes.
Samantha shines in her role in "Kushi," exuding charm and delivering a nuanced performance. Her on-screen chemistry with Vijay Deverakonda is convincing, and she handles emotional sequences with ease. The film strikes a balance between humor and emotion in the latter part, with notable performances from the supporting cast, including Sharanya, Murali Sharma, Rohini, Sharanya Pradeep, Sachin Khedekar, and Rahul Ramakrishna.
Negatives:
As the movie progresses, it becomes somewhat predictable, which diminishes its impact. The film's length could have been trimmed by editing certain sequences, particularly in the extended Kashmir portions. The momentum in the first half is not as strong, but it picks up from the pre-interval scene. Director Shiva Nirvana had mentioned that the film addresses a sensitive issue during promotions, but this aspect may feel familiar and reminiscent of other films.
Technical Aspects:
Hesham Abdul Wahab's music is a standout aspect of "Kushi," with superbly composed songs that are visually captivating thanks to cinematographer Murali's work. The film benefits from rich visuals that enhance the overall viewing experience, and the production values by Mythri Movie Makers are top-notch. However, there is room for improvement in the editing department.
Director Shiva Nirvana has done a commendable job with "Kushi," choosing a simple concept that resonates with married individuals and presenting it in his signature style. The film falls into the same category as the director's previous works, addressing everyday life issues. The casting is strong, and the technical team delivers a solid performance.
Verdict:
In summary, "Kushi" is an enjoyable rom-com, particularly in its engaging second half. The film's central theme unfolds in the latter part, packed with compelling drama and emotions. Vijay Deverakonda and Samantha deliver endearing performances, supported by a talented ensemble cast. However, the film's initial portions could have been more captivating, and a shorter runtime might have improved its overall impact. Nevertheless, Shiva Nirvana delivers a relatable film that will appeal to family audiences, making "Kushi" a good choice for weekend entertainment.
Tags: Kushi Movie Review, Kushi Movie updates