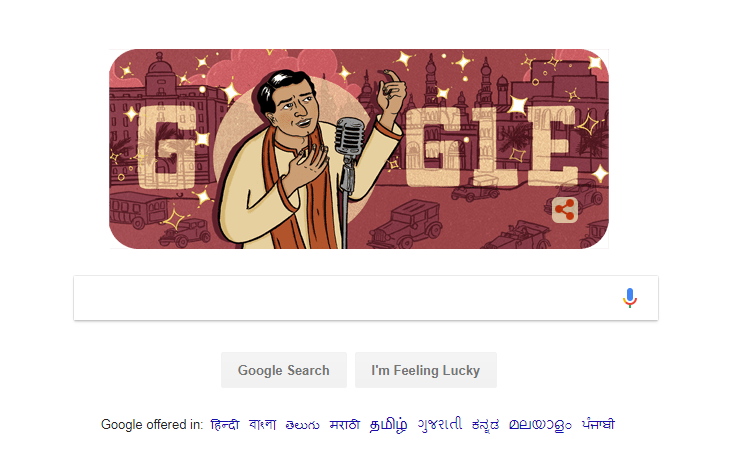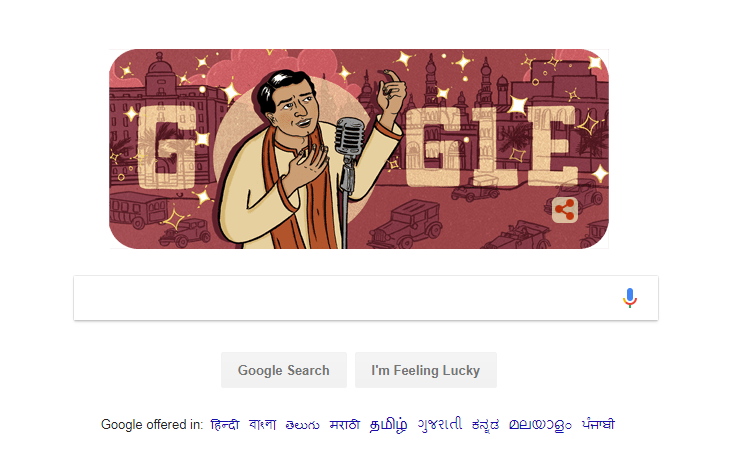 Who is KL Saigal ?
Kundanlal Saigal, often called as K. L. Saigal, was an Indian singer and actor who is considered the first superstar of the Hindi film industry.
Search engine giant Google today on 11th April honoured noted Indian singer and actor KL Saigal with a doodle on his 114th birth anniversary. On April 11, 1904 he was born to Amarchand Saigal and Kesarbai Saigal in Jammu . His father was a tehsildar at the court of king of Jammu and Kashmir. In his childhood Saigal used to play the role Sita during Ramlila. In 1930's he was introduced to RC Boral by music director Harishchandra Bali. He got a job in B N Sircar's film studio New Theatres on a contract of Rs. 200 per month. While working there he came in contact with contemporaries like KC Dey, Pankaj Mullick and Pahari Sanyal.
He moved to Bombay in 1941, where he got the chance of acting and singing for a number of successful movies including Bhakt Surdas (1942) and Tansen (1943). He is still remembered for his songs, Sapta Suran and Diya Jalao .This year On March 31, the Google dedicated it's doodle to India's first lady doctor Anandi Gopal Joshi on her 153rd birth anniversary. The Google wrote in its blog, " "In 1886, a young doctor stepped off a ship from America, eager to take up the role of physician in charge of the female ward at Kolhapur's Albert Edward Hospital. Not only was she India's first female doctor, but she was only 19 years old at the time. Her name was Anandi Gopal Joshi, and her story is one of courage and perseverance."
ALSO READ : About Anandi Gopal Joshi
Whether 'Zee News' or 'The Hindu', they never have to worry about funds. In name of saving democracy, they get money from various sources. We need your support to run this website. Please contribute whatever amount you can afford.
Summary
Comments