The Met Gala is one of the most highly anticipated fashion events of the year, and the 2023 edition was no exception. This year's theme is centered around legendary fashion designer Karl Lagerfeld, Chanel's long-time creative director, attendees were expected to embrace the theme with their fashion choices. As usual, many celebrities made headlines with their outfits, but one of the most talked-about was none other than Kim Kardashian.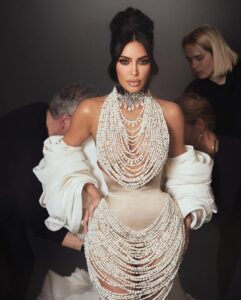 Kim Kardashian is no stranger to the Met Gala, having attended numerous times in the past. However, her appearance in 2023 is particularly noteworthy, as she stepped out in a truly show-stopping pearl outfit. Designed by Bob Mackie, her ensemble consisted of a nude pearl dress, a stunning look.
Kim's outfit was a dramatic contrast to her usual red carpet ensembles, which frequently highlight her curves and shape. However, it was a bold and daring decision that drew a lot of attention and sparked a lot of discussion online.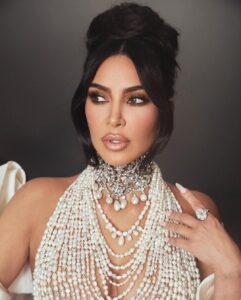 Kim is dressed in a one-of-a-kind ensemble accented with pearls, the ensemble is too extreme or attention-seeking. Kim's look was one of the most talked-about of the night, cementing her status as a fashion icon and a trendsetter.
Of course, the Met Gala is about more than just fashion – it's also a fundraiser for the Metropolitan Museum of Art's Costume Institute, which is dedicated to preserving and showcasing the history of fashion. Through the event, the institute raises millions of dollars to support its exhibitions and programs.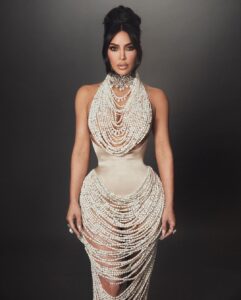 In conclusion, Kim Kardashian's appearance at the Met Gala 2023 will be a memorable one. It also demonstrated her willingness to take risks and push boundaries in the world of fashion. And regardless of one's opinion on her outfit, it's clear that she made a lasting impression and helped raise awareness and funds for a great cause.