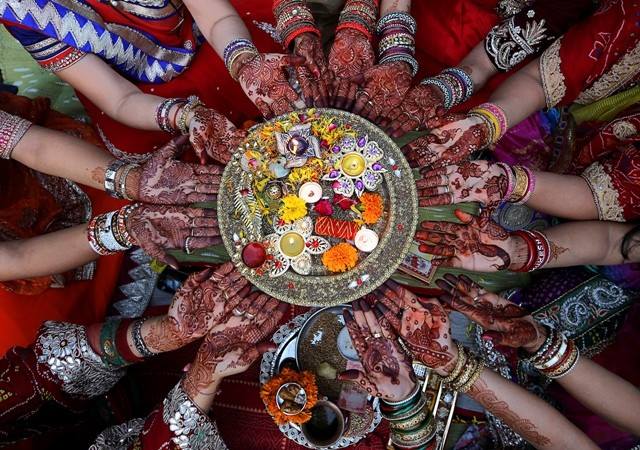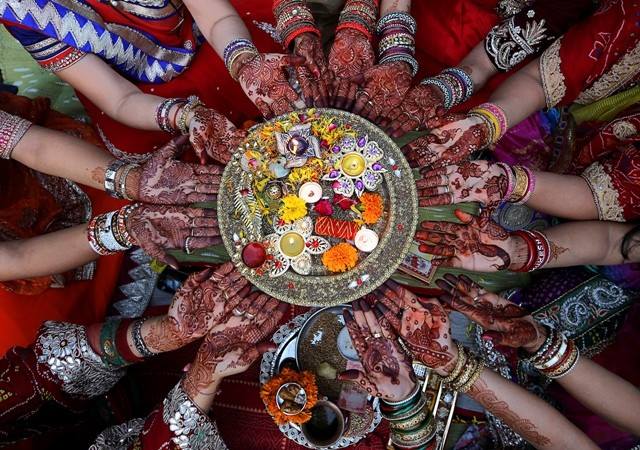 Karva Chauth:
Karva Chauth is a festival of one day celebrated by Hindu women. This day is observed in the Hindu month of Kartika on the fourth day after the full moon or Purnima.
This Year,On 2018 Karva Chauth is celebrated on 27th October.
The time of this festival coincides with the initiation of the Rabi cropping season which is the wheat sowing season in these aforementioned areas. The women of the families fill the earthen pot or Karwa with wheat grains and offer to the God praying for a great Rabi season.
Meaning of Karva Chauth:
Karva Chauth has very prestigious meaning .The word 'Karva' means 'earthen pot', which symbolises peace and prosperity and 'Chauth' refers to 'fourth day'.
Significance:
Women who observe this festival are called "Saubhagyavati". On this day women pray for the prosperity and peace in their family and also for the Well-being, Safety and Longevity of their husbands.
Celebrations:
Like all the other festivals, Karva Chauth is also celebrated with great enthusiasm,Joy and Happiness. Karwa chauth is a very important as well as a difficult fast. No water or food is consumed by them after sunrise.
On this day Women fast from sunrise to moonrise and ends after following all the rituals and worshipping the moon.
Some Unmarried also fast either for their fiancés or to get the Man of their own desires.
Places that are mostly famous for Karva Chauth:
This is the festival which is mostly observed among the married Hindu and Sikh Women in the Northern and Western parts of India such as Punjab, Haryana, Rajasthan, Uttar Pradesh and Gujarat.
Quotes on Karva Chauth:
Karva Chauth is not only an age old tradition but a confidence which a loving and doting wife has on her faith, love, and care for her husband.
May this marriage be full of laughter, our every day in paradise
Happy is the man who finds a true friend, and far happier is he who finds that true friend in his wife.
Marriage is neither heaven nor hell, it is simply purgatory.
Marriage is a series of desperate arguments people feel passionately about.
A happy marriage is the union of two good forgivers.
Mantras:
पार्वतीजी का मंत्र – ॐ शिवायै नमः
शिव का मंत्र – ॐ नमः शिवाय
स्वामी कार्तिकेय का मंत्र – ॐ षण्मुखाय नमः' 
श्रीगणेश का मंत्र – ॐ गणेशाय नमः
चंद्रमा का पूजन मंत्र – ॐ सोमाय नमः  
Images: