A long time ago, a moneylender had seven sons and a sister, Karva. All the seven brothers loved their sister very much. Even they used to feed him first and then eat it themselves. Once his sister was visiting her in-laws from her in-laws.
In the evening, when his brother came home after closing his business, he saw that his sister was very distraught. All the brothers sat down to eat and urged their sister to eat it, but the sister told that today she has a waterless fast of Karva Chauth and she can eat only by seeing the moon and offering it to her. Since the moon has not yet come out, she is distraught with hunger and thirst.
The youngest brother does not see the condition of his sister and he burns a lamp on a peepal tree and puts it in a sieve. Looking at it from a distance, it seems as if the moon of Chaturthi is rising.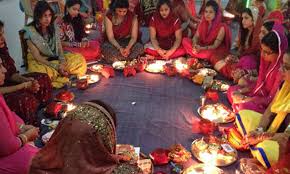 After this, the brother tells his sister that the moon has come out, you can have food after offering it to him. Sister happily climbs the stairs and looks at the moon, offers her argh and sits down to eat.
She sneezes when she puts the first piece in her mouth. When the second piece is inserted, hair comes out in it and as soon as it tries to put the third piece in the mouth, she gets the news of her husband's death. She gets scared.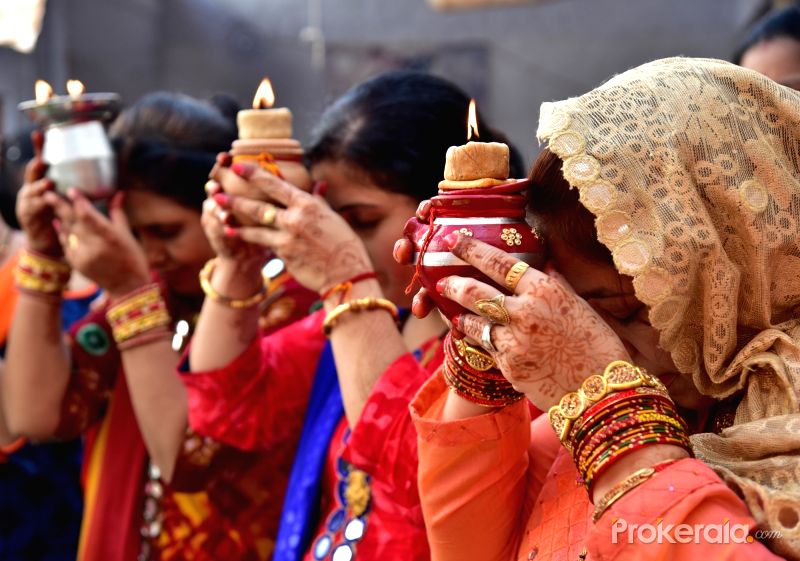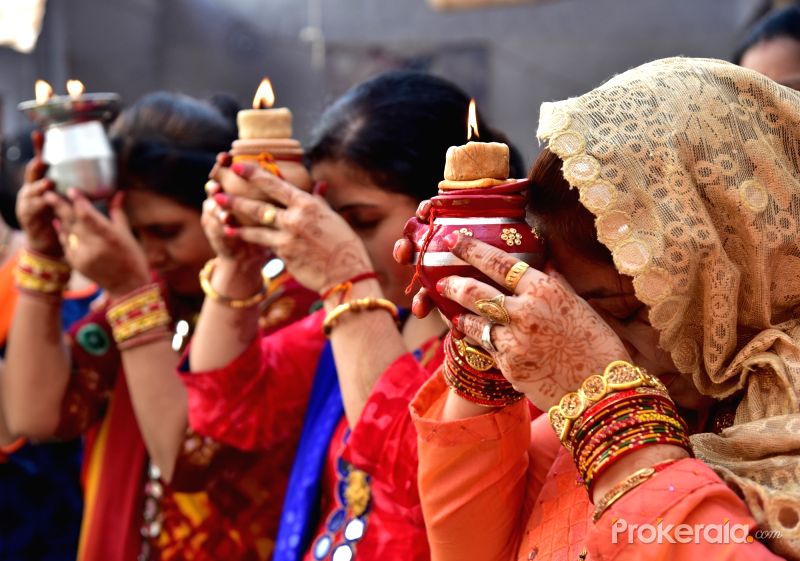 Her sister-in-law informs her of the truth as to why this happened to her. Devta is angry with him for doing wrongly breaking Karva Chauth and he has done so.


After getting to know the truth, Karva decides that she will not allow her husband to be cremated and will be able to resurrect her by her persistence. She sits near her husband's body for a whole year. Looks after him She collects the dull grass that grows on her.
After a year, the day of Karva Chauth comes again. All her sisters keep fast of Karva Chauth. When sisters-in-law come to seek her blessings, she urges each sister-in-law to 'Take Yama Sui, give it to me, make me your own suhagin', but each time her sister-in-law tells her to ask for the next sister-in-law. is.
In this way, when the sister-in-law of the sixth number comes, Karva repeats the same thing to her. This sister-in-law tells her that since her fast was broken because of the youngest brother, her wife only has the power to resurrect your husband, so when she comes, you can hold her until she comes to your husband. Do not leave it alive, do not leave it. Saying that and he goes.
At the end comes the younger sister-in-law. Karva urges them to become Suhagin too, but she starts to avoid. Would it make to detect them aloud and ask you to live your wedding? Law Nocti to rescue her, Ksotti, but had to leave it.
Finally, seeing her austerity, the sister-in-law exhales and rips her little finger and puts nectar out of it in her husband's mouth. Karva 's husband immediately wakes up saying Shree Ganesh-Shriganesh. In this way, Karva gets her honeymoon back through her younger sister-in-law.
Support Us
Whether 'Zee News' or 'The Hindu', they never have to worry about funds. In name of saving democracy, they get money from various sources. We need your support to run this website. Please contribute whatever amount you can afford.