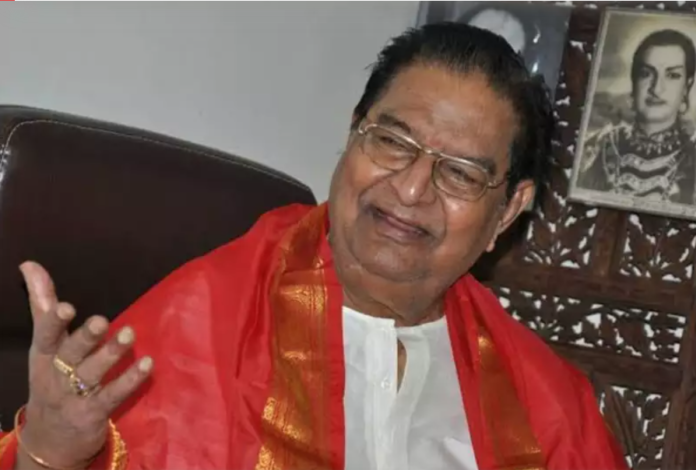 Kaikala Satyanarayana is a well known face of South Industry. Along with producing films, he also does the work of directing films. Apart from the Telugu industry, he has also been a jury member of the 59th South Region National Film Awards. He received the Raghupathi Venkatai Award in the year 2011 and the Filmfare Award in the year 2017. He received both these awards for Life Time Achievement in Telugu cinema.
Latest News
Kaikala Satyanarayana: South veteran actor Kaikala Satyanarayana passed away, breathed his last at the age of 87
Renowned Telugu actor Kaikala Satyanarayana passed away on December 23 at around 4 am at his Hyderabad residence. He was 87 years old.
A bad news is coming out from the cinema world. Veteran actor of South Indian cinema Kaikala Satyanarayana passed away on the morning of 23rd December at his residence in Hyderabad. The actor, at the age of 87, was battling multiple health issues for the last few months. Soon after the news of Satyanarayana's demise broke, the entire cinema industry plunged into grief. Reportedly, the last rites of the actor will take place tomorrow, December 24 at Mahaprasthanam.
Vamshi and Shekhar have given information about the death of actor Kaikala Satyanarayan through Twitter handle. He writes, 'Veteran actor Kaikala Satyanarayana Garu has passed away. May his soul rest in peace. Kaikala Satyanarayana breathed his last this morning at his residence in Film Nagar, Hyderabad. The actor married Nageswaramma in the year 1960 and they are the parents of two daughters and two sons. Satyanarayana's death is a big blow to the Telugu film industry. Fans and celebrities are paying tribute to him on social media or in other ways.
Kaikala Satyanarayana is regarded as one of the most prolific actors of Telugu cinema. He has worked in more than 750 films. He has also worked with Mahesh Babu to NTR and Yash. He was an actor as well as a film producer. He was also presented with the Telugu blockbuster film KGF.
Last year too, the actor was admitted to Apollo Hospital in Hyderabad after he complained of breathlessness. Even at that time his condition was said to be very critical. Kaikala, 87, was suffering from age-related problems for a long time. Big actors of South Indian films are mourning the death of the actor. The name of Nandamuri Kalyanram is also included in these stars.
Biography of Kaikala Satyanarayana
Kaikala Satyanarayana Personal Info
Full Name – Kaikala Satyanarayan
Other Names – Nava Rasa Natanaa, Sarvabhouma
Profession – Film Actor, Film Producer, Film Director, Politician
Born – 25 July 1935
Religion – Hindu
Eye Color – Black
Hair Color – Black And White
Place of Birth – Kotram, Krishna district, Andhra Pradesh
Country – India
Father – Kaikala Lakshmi Narayan
Favorite Color – White- Black
Favorite Actress – Savitri
Favorite actor – sir ntr
Favorite food – Indian food
Favorite place – London
Favorite Director – K Vishwanath
Hobbies – Acting, Traveling
Rashi – Leo
length – 5.10
weight – 95 kg
Education of Kaikala Satyanarayana
Kaikala Satyanarayan completed his early education from a school located in Gudivada district. Later he completed his intermediate education from Vijayawada School, while he did his college studies from Gudivada College.
Marriage of Kaikala Satyanarayana (Wife, Son, Family)
Kaikala Satyanarayana was married to Nageswaraamma on 10th April in the year 1960 and after marriage, they were blessed with two daughters and a son.
Film Career of Kaikala Satyanarayan
Due to his wonderful personality and good voice, Satyanarayan stepped into the Madras industry for roles in films. For the first time he was noticed by DL Narayan and he offered him to work in a film named Sipayi Koothuru in the year 1959. This film was directed by a person named Changayya.
Although this film done by Kaikala Satyanarayan could not show anything special at the box office, but he did a very good presentation of his acting in this film. His appearance was similar to NTR, so many people noticed him. After which Kaikala Satyanarayan worked in many films as a duplicate of NTR.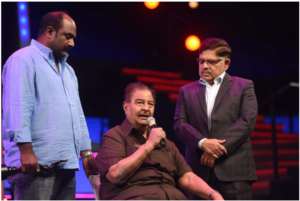 Sir NTR notice to Kaikala Satyanarayana
While working in films, NTR also noticed him and NTR gave him a chance to work in his 1960 film Apoorva Sahasra Siraccheda Chintamani. The director of this film was SD Lal. Kaikala Satyanarayana played the role of a prince in this film.
Kaikala Satyanarayana and Vitthal Acharya
Vitthal Acharya also recognized Kaikala's talent and one day it came to his mind that why not give Kaikala Satyanarayan to play the role of villain and when his thought actually landed on the film screen, it was because of that that Kaikala Satyanarayan Career changed a lot.
Vitthal Acharya offered Kaikala Satyanarayana to play a negative role in his film Kanaka Durga Puja Mahima, which Kaikala Satyanarayana accepted, and when the film was released, the film performed very well at the box office.
Apart from playing the villain, Kaikala Satyanarayana played different roles in many other films, due to which he came to be known as a versatile actor in the Telugu film industry. There would hardly be any character that he would not have played, because whatever role was given to Kaikala Satyanarayan, he used to play it well.
He played many characters like comedian, father, brother, villain in his film career. His character of Yama done by Satyanarayan in the Yamagola picture was very much liked by the people.
Activism in the films of Kaikala Satyanarayana (Kaikala Satyanarayana Movies)
Let us tell you that, Satyanarayana has been working in Telugu movies for almost 4 years and so far he has worked in about 777 different language films during his film career. He has done variety of roles like mycological, villain, comedy, soft role etc.
Kaikala Satyanarayana Production House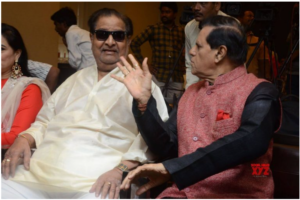 Satyanarayana has also launched his own production house which he named Rama Film Production and under this production house Satyanarayana produced films like Kodama Simham, Bangaru Kutumbam, Muddula Mogudu.
Kaikala Satyanarayana Entry in Politics
In the year 1966, Kaikala Satyanarayana also contested the Lok Sabha elections from Machilipatnam Assembly and won in this election. Thus he has been active in politics as well.
Kaikala Satyanarayana Health
Telugu actor Kaikala Satyanarayana ji suddenly started having trouble breathing on November 1, after which he was admitted to the Secunderabad hospital, doctors say that his condition is very critical. He was recently admitted to Apollo Hospital in Hyderabad due to his deteriorating condition. In fact, he had slipped and fallen in the bathroom of his house at the end of October. Due to which he was hurt a lot and after that some symptoms of corona were also seen in him. Recently news is coming. That he is still hospitalized. And his condition is very serious.