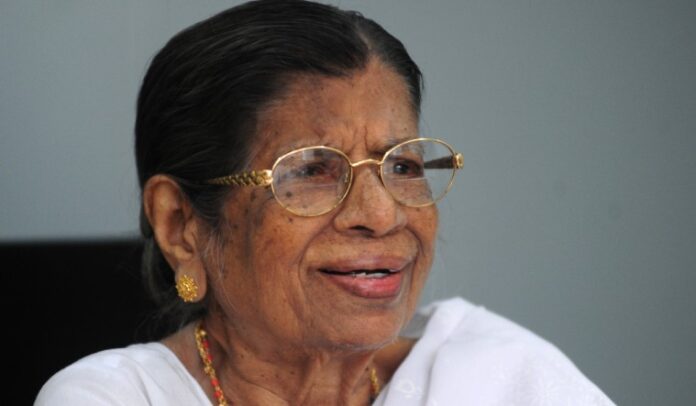 KR Gouri Amma (Kalathilparambil Raman Gouriamma) was an Indian politician and the first revenue minister of Kerala state. She was a Marxist Revolutionary, advocate, author and development; she was also one of the founding leaders of the communist Movement in Kerala, she headed the janathipathiya sumrakshana Samithy, a political party based in Kerala. She was the first female law student coming from the Ezhava community.
Gori Amma Early Life And Education
Gauri was born Pattanakkad village Cherthala in the Alappuzha district of Kerala as the seventh daughter of arumuriparamballi Parvathiyamma and Kalathillparambali Raman in an aristocratic Ezhava family on 14 July 1919. Attended school at turavur and completed her college education at maharajas and at Saint Teresa's college both in Ernakulam. She also received a law degree from Government Law College Thiruvananthapuram her father was an inspiration throughout her life and her family gave 132 acres of land to the Kerala government.
Gori Amma Career
She was elected to the Travancore Cochin Legislative Assembly in 1952,1954 and 1957. She was elected to the Kerala Legislative Assembly, since then she has been continuously elected to the Kerala Legislative Assembly in 1960,67,78,87,91 and 2001 and served as minister in various Ministries. Gowri amma was involved with the Kerala Karshaka  Sangham from 1960 to 1984. She was also the leader of the Kerala Mahila Sangam from 1967 to 1976.
She is one of the longest-serving politicians in Kerala politics. She became revenue minister in the first communist ministry in 1957 headed by EMS namboodiripad. In the very same year she married TV Thomas, a prominent politician and also minister of EMS Government.
Gori Amma Awards
She has published An Autobiography titled Aatmkatha which won the 2011 Kerala Sahitya Academy Award.
Gori Amma celebrated her 101 birthday in July 2020 Shakti Auditorium in Alappuzha the Chief Minister pinarayi Vijayan inaugurated the celebration and gave a speech the leader of the opposition Ramesh Chennithala and other politicians were also in attendance.
Gori Amma Death
Gori amma was hospitalized due to Physical alignments a few days before she died on 11 may 2021 due to Severe infection.
K.R.Gouri Amma Personal Information
Name – K.R.Gouri Amma
Born On – 14th July 1919
Birthplace – Kerala
Died – May 11 2021
Aged – 101 Years
Husband – T V Thomas
Profession – Politician
Awards – Kerala Sahitya Academy Award