Jug Jug Jeeyo : Movie Review
Actors: Varun Dhawan, Kiara Advani, Neetu Kapoor, Anil Kapoor, Tisca Chopra, Manish                    Paul, Prajakta Koli
Director: Raj Mehta
Category:Comedy, Family, Drama
Duration:2 Hrs 50 Min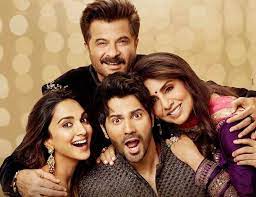 In director Raj Mehta's film 'Jug Jug Jeeyo', 'A person will either be married or is happy, both will never happen' this dialogue related to marriage comes in a funny method, but this question is definitely given. Which marriage is perfect? That which is done after testing each other after a long love-romance, Love marriage or arranged marriage by the choice of family members? Or a marriage done just to settle down? Films are being created in Bollywood for several years on problems like wedding, relationship confusion and divorce, however director Raj Mehta served this sensitive subject by creating comedy, emotion and a little dramatic in such a way that the film laughs and plays many difficult questions. gives the answer.
Story of 'Jug Jug Jeeyo'
The wedding of Kukku (Varun Dhawan), who work as a bouncer in Canada and Naina (Kiara Advani), who works at a higher post in HR department, is on the verge of collapse. However, these are the same idol love birds, whose love blossomed in school and both of them were tied in love while young. However a lot of change is in the five years of marriage and the distance between the two has become a gulf. The two want to tell their family about their difficult decision to divorce, but here in Punjab, Cuckoo's sister Ginni (Prajakta Koli) is getting married and then they decides that they will make believe to other peoples to be a happy couple until they get married. . The story takes a dramatic flip once Cuckoo learns that his father Bheem (Anil Kapoor) breaks off his 35-year-old along with his mother Geeta (Neetu Kapoor) to be with his love Tisca Chopra. want.
'Jug Jug Jeeyo' trailer
There is another twist within the story. The wedding that Ginni appears to be thus obsessed on, in reality she is also in love with some another person, but in hopes of the family's respect and her family's settlement, she accepted or we say that she agrees to the arranged marriage. Within all these difficulties, there is a storm in the family that once all the characters of family come to know and understand about the reality of each other's marriage. What is the end of these marriages that seem ideal for society and the world? Will Bhima be able to go to his girlfriend? will Ginni be able to reveal her love to the family members? You have to watch the movie to know this.
Review of 'Jug Jug Jeeyo'
When the film begins on the issue of relationship rift and divorce, the question that definitely arises in the mind is what new director Raj will serve in the next phase? On the other hand this story takes lots of interesting turns with the fabric of relationships. In the story, the husband's ego gets hurt if the wife earns more, the pressure of becoming a mother after marriage, the thinking that everything will be right after marriage, many important issues like marriage to be settled are presented in a humorous style. does. The 2nd half is stronger than the 1st half. The length of the film should have been cut a bit. The film has ennobling dialogues like 'There isn't any one reason to break a relationship, there is a temporary state of the many unfinished battles', whereas the world's biggest festival knows, that is it? There also WhatsApp dialogues like 'Gharwali', as a result he needs to be persuaded again and again. The magnificence of the film's custome and sets maybe a sight to lay eyes on, but the photography is average. Talking for the music, the song 'Nach Punjaban' is incredibly very high on the music charts. Songs like 'Rangi Saari', 'Dupatta' and 'Nain Ta Heere' also spectacular.
Stars acting in 'Jug Jug Jeeyo'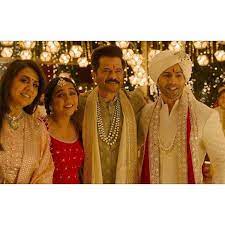 In the matter of acting, Anil Kapoor takes the sector. He has attempt the character of Bhima and play it with great pleasure and the audience also enjoys both of them a lot. Along with Anil Kapoor, Neetu Kapoor is also expresses the despite gap, there was no shortage in her acting talent. There are some sturdy scenes in her part and she manages to play them in a powerful way. In the matter of acting, the pair of Anil and Neetu introduces the experience of their years. Varun as Kukku does justice to his comic timing along with being emotional. Kiara is getting better film by film. Along with looking beautiful, she gives strength to the character. The argument scene between him and Varun proves to be a shock to Nahle in terms of performance. YouTuber Prajakta Koli, who made her acting debut as Ginni, looks confident. Maniesh Paul in his over the top character as the clown Gurpreet entertains a lot with his comedy.
Why You Watch This Movie
Full of comedy, emotion and drama, this family entertainer can be watched with the family.