The demolition effort in Jahangirpuri, northwest Delhi, comes to a halt when the Supreme Court put and end to the work. The drive, which began earlier today, did not come to a halt right away since authorities did not receive a copy of the supreme court's decision. After a copy was handed to officials, it came to a halt more than an hour after the established order was imposed. The issue will be heard by the Supreme Court tomorrow.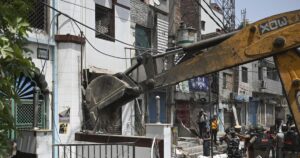 The 'demolition drive' was triggered by a letter by Delhi BJP head Adesh Gupta to NDMC mayor Raja Iqbal Singh, requesting that 'illegal' structures belonging to 'rioters' in Jahangirpuri be demolished. Gupta said that individuals participating in the disturbances were shielded by the local MLA.
On April 16, nine persons were hurt in riots in Jahangirpuri during a Hanuman Jayanti celebration, including eight police officers. So far, the Delhi Police have arrested 23 persons, majority of them are Muslims, including two minors. Five of the accused face charges under the strict National Security Act, including Mohammad Ansar, the suspected major conspirator, and Sonu, who was seen on film shooting a handgun during the fighting.
The BJP and the AAP have engaged in a political blame game, with one accusing the other of claiming Ansar as a member of its party.
Since the violence, authorities have been using drones to perform overhead surveillance and have stated that the situation is calm and that discussions with a "peace committee" is ongoing.
Tag: Jahangirpuri MCD Demolition Drive, Destruct Illegal Construction in Jahangirpuri