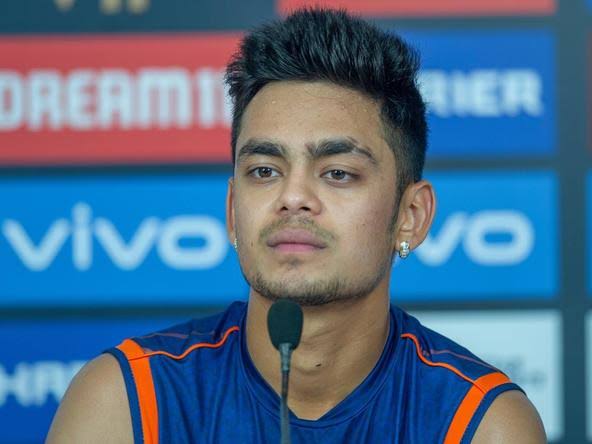 Ishan Kishan Biography Height Age Family Education Career Personal Information
Ishan Kishan is a young Indian cricketer who plays for Jharkhand he is a left handed batsman and wicket keeper he bought by the Mumbai Indians in 2018 IPL auction. He was named the captain of India's squad for the 2016 under-19 Cricket World Cup in December 2015.
Education And Family
Ishan Kishan was born in Patna on 18 July 1998.His father name is Pranav Kumar Pande he is a builder by profession and his brother Rajkishan supported him in pursuing cricket as career. He is completed his schooling and graduation from Bihar.
Due to registration issue between Bihar Cricket Association and the BCCI Ishan started playing for neighbouring state Jharkhand based on advice from a senior player and friend. His idols are former Indian team captain MS Dhoni and former Australian wicket keeper batsman Adam Gilchrist.
Career
In 2016 Ishan scored 273 runs against Delhi in the 2016-17 Ranji Trophy this is score was the highest score by a player for Jharkhand in the Ranji Trophy also he was the leading run scorer for Jharkhand in the 2017-18 Ranji Trophy with 484 runs in 6 matches.
in 2018 he was bought by the Mumbai Indians in the 2018 IPL auction for 6.2 crores. In 2019 he was named in the India red team squad for the 2019-20 duleep trophy. on 20 February 2021 on the opening day of the 2020-*21 Vijay Hazare Trophy Kishan scored 173 runs against Madhya Pradesh.
Personal Information
Name – Ishan Kishan
Born On – 18 July 1998
Birth Place – Patna, Bihar
Father – Pranav Kumar Pandey
Mother – Suchitra Singh
Brother – Rajkishan
Marital Status – Unmarried
Occupation – Indian Cricketer
Height – 5'6
Weight – 60 Kg
Debut – Under- 19
Coach – Santosh Kumar, Ajit Mishra
Team- Jharkhand,Gujarat Lions, Mumbai Indians
'$'
Whether 'Zee News' or 'The Hindu', they never have to worry about funds. In name of saving democracy, they get money from various sources. We need your support to run this website. Please contribute whatever amount you can afford.