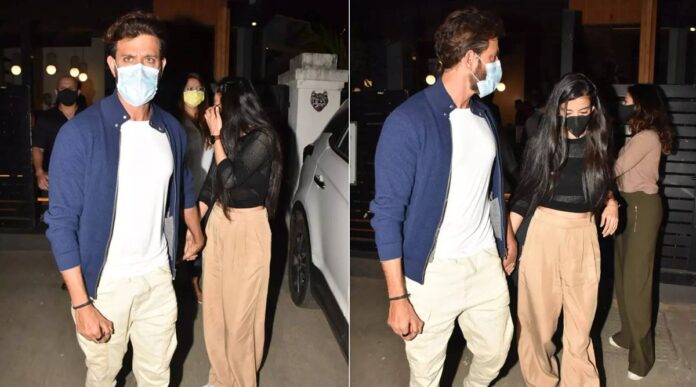 A mystery girl was spotted leaving a Chinese restaurant, holding hands with none other than Bollywood hunk Hrithik Roshan. Reports have claimed that she was Saba Azad. This created a storm of speculations online and she was recently interviewed about the same. Fans were left puzzled and excited after the duo was spotted together.
Following the Kangana Ranaut controversy not much was heard about Hrithik Roshan's dating life. So this came as a surprise for his fans, who were thrilled at the thought that cupid has re-entered Hrithik's love life.
Saba was wearing a mask and holding hands with Hrithik, while Hrithik walked her to his car shielding him away from the paparazzi. Many speculated that they might be out for a casual dinner but some other's speculated that something more romantic might be at play.
Saba has worked in some movies and shows, the most recent being "Feels like Ishq" released in 2021. Saba is also a musician and a part of an electronic band with Naseeruddin and Ratna Pathak Shah's son, Imaad Shah.
In a recent interview conducted by ETimes, she was very calm when the publication introduced themselves but later when she was asked questions about the viral pictures, she refused to say anything and responded with "Sorry, I am in the middle of something. I'll call you back."
It should be noted that she did not accept or deny any of the rumours.
Tags:Hrithik Roshan and Saba Azad, Celebrity dating, Hrithik Roshan dating, Saba Azad