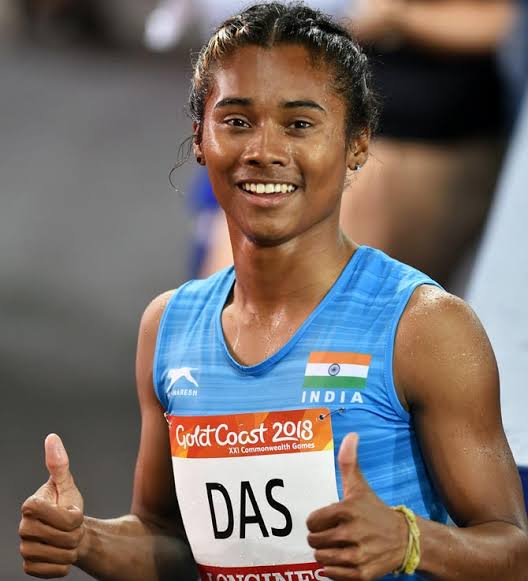 Hima Das Biography Age, Family, Career, Records,Education, Achievements ,Awards Personal Information
Hima Das is an Indian sprinter from the state of Assam. she is the First Indian athlete to win a gold medal in a track event at the IAAF world U20 championships. She holds the current Indian national record in 400 metres with a timing of 50.79 second that she clocked at the 2018 Asian games in Jakarta, Indonesia. 
Early Life And Family
Hima Das born on 9 January 2000 in Nagaon Assam. His father is Ronjit Das and mother is Jonali Das. They belong to the Hindu kaibarta community of Assam. Her parents are farmers by profession she is the youngest of five siblings. She attended the Dhing Public School and later on Jawahar Navodaya Vidyalaya after clearing entrance exam in 5th class and was initially interested in playing football. Hima passed her 12th board exams in May 2019.
Career
In April 2018 das competed in the 2018 Commonwealth games at Gold Coast, Australia in the 400 metres and the 4×400 metre relay. 1 July 2018 Hima Das won the 400m final at the world U20 championships 2018 held at tampere, Finland clocking a superb 51.46 seconds and becoming the first Indian sprinter to win a gold medal at an international track event. 
At the Asian games of 2018 Hima Das qualified for the 400m final after clocking 51.00 in heat 1 and setting an Indian national record.Hima Das continued her success in 2019 winning the 200m gold in poznan Grand prix in Poland, 
on 2nd July 2019 with a time of 23.65 seconds,after this on 13 July she won 200 gold at Kladno meet, again on 20 July 2019 hima achieved her third gold in a month and fifth gold, in her 400 metre race. 
Hima Das was named for the world championships to be held at Doha in October 2019.
Achievement
At present Hima Das appointed as Deputy Superintendent of Police (DSP) in Assam police on 26 February 2021.Hima Das was appointed to the post of DSP in Assam police under the state's integrated sports policy. 
Awards
1.Arjuna Award in 2018
 2.Deputy Superintendent in 2021
3.Gold medalist on international level
Personal Information
Naam – Hima Das 
Born – 9 January 2000 
Age- 21
Birthplace – Assam
Nickname – Dhing Express, Mon joi
Height – 5′ 6 
Weight – 54 Kg 
Occupation – Sports Women 
Sport – Track And Field
Event – 100m, 200m, 400m
Coach – Nipon Das,Galina Bukharina
Achievement – Gold Medalist
Awards – Arjuna Award
'$'
Whether 'Zee News' or 'The Hindu', they never have to worry about funds. In name of saving democracy, they get money from various sources. We need your support to run this website. Please contribute whatever amount you can afford.