Met Gala Looks 2022
Met Gala 2022 theme?
Met Gala 2022 theme is In America: An Anthology of Fashion, with Andrew Bolton, chief curator of the Costume Institute at the Museum of Modern Art, focusing on diversity in fashion. "Who gets to be American?" was a topic asked at Prabal Gurung's spring/summer 2020 presentation, and it will be discussed again at the Met Gala in 2022.
Top 11 Met Gala Looks 2022
There are many celebrities who are coming to this Met Gala 2022 & without a doubt all of them are looking fabulous. But naming all of them is not possible because we are doing the top 11 only. So below is the list of Top Met Gala Looks of 2022.
Kim Kardashian & Pete Davidson
On Monday night, Kim Kardashian and Pete Davidson made their Met Gala 2022 debut as a couple, they were the last guest to arrive on the red carpet. Kim Kardashian's dress the same dress that Marilyn Monroe wore when she sing happy birthday Mr president. Kardashian told Vogue on the red carpet that she dropped 16 pounds in three weeks to fit into the gown. Kim kardashian has recently file for divorce with Kanye west that's why kim kardashian is trending on met gala 2022 as now it is confirmed that she is with pete Davidson.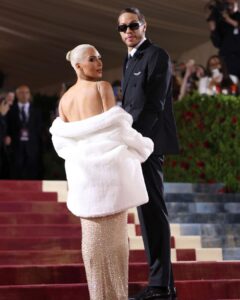 Blake lively & Ryan Reynolds
The evening of Met Gala 2022 included a stunning appearance by Blake Lively and Ryan Reynolds, who co-chaired the event with Regina King and Lin-Manuel Miranda. Assistants loosened Blake's bow to expose a beautiful blue-green dress as she walked the steps in an Atelier Versace outfit. Her rose gold gloves had also become blue. The style is supposed to be a tribute to the Statue of Liberty in New York.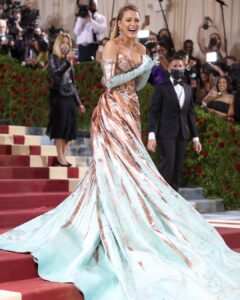 Gigi Hadid
When Gigi Hadid showed her stuff in Versace on the Met Gala 2022 red carpet, she wore an evening version of the iconic winter coat. Gigi wore a huge burgundy puffer coat with a high collar and a train over a corseted bustier and matching latex pants with high red boots. To compliment her monochrome appearance, Gigi hadid wore her hair in a spiky updo and a bold red lip.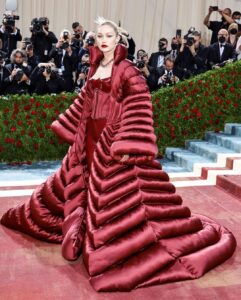 Kourtney Kardashian & Travis Barker
Newlyweds Kourtney Kardashian and Travis Barker walked the Met Gala 2022 red carpet together. The two looked lovely in matching Thom Browne black-and-white skirts. Travis Barker wore a pleated kilt and looked handsome. Kourtney on the other hand, wore a black skirt with a high slit and a long-sleeve white top.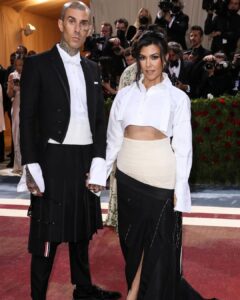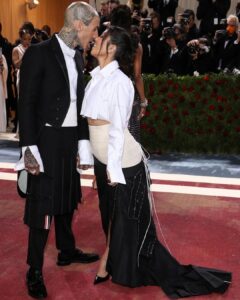 Kylie & Kendall Jenner
At the Met Gala 2022, Kylie Jenner stunned everyone with her bridal gown. Kylie made a gorgeous presence this year after she missed the event last year due to her second pregnancy. Kendall Jenner removed her brows for the 2022 Met Gala red carpet at the Metropolitan Museum of Art in New York City on Monday night. Kendall bleached her brows and wore a Prada costume consisting of a revealing crop top and a long black skirt for fashion's biggest night out. Lorraine Schwartz, her famed family's go-to jeweller, completed her ensemble with diamond earrings. Jenner's glam was created by Mary Phillips, who shared what she used to finish the model's spectacular look on Instagram.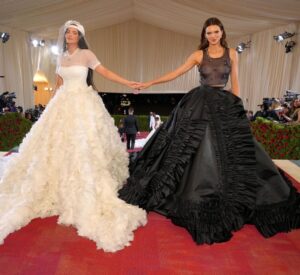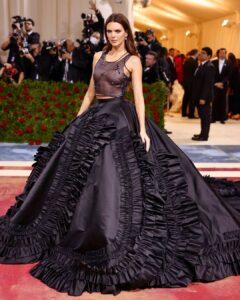 Bella Hadid
This Met Gala 2022, Bella Hadid came prepared to steal the show, and she did so wonderfully. For the night's Gilded Glamour theme, Bella wore a black Burberry corset dress with a high leg slit. On the carpet, she posed alone.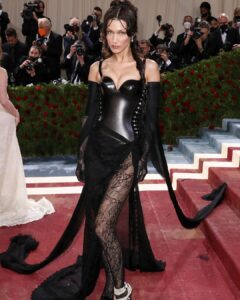 Natasha Poonawalla
Natasha Poonawalla, the Met Gala's only Indian girl, made the most of her debut on the red carpet. She looked stunning with a gold Sabyasachi saree and matching jewellery. 'In America: An Anthology of Fashion, or "Gilded Glamour," was this year's theme, and she was completely in tune with it. 'Gilded Glamour' turned out to be her calling, and she delivered.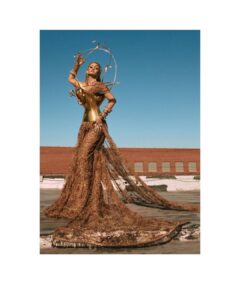 Tags: Met Gala Look 2022, Met Gala 2022 theme, Top 11 Met Gala Looks 2022