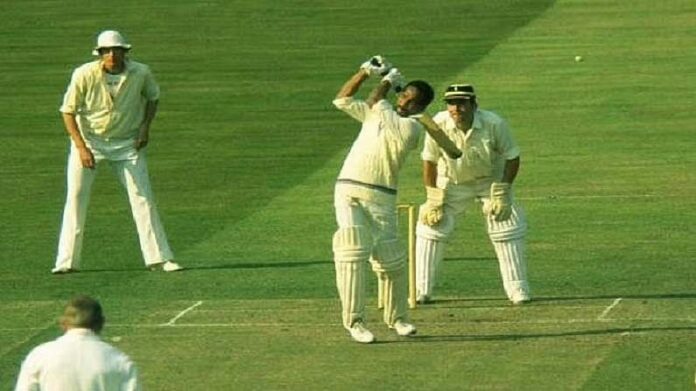 You will see many surprising events in the history of cricket. They could be the spectator sitting on the stands .. or the umpire .. or any player. It can be related to the spectator, umpire or any player in the stadium. The incident to be told now is that of a great cricketer. The incident happened when he was playing the last Test of his career. It also took place at Lord's, the birthplace of cricket. He smashed an amazing unbeaten century in his last Test. However, the day before the match, he drank alcohol all night and became intoxicated. He felt whirling all over his tummy as long as he was batting at the crease. He was afraid that he might do vomiting. All that aside, he made history by scoring his 26th century in his last Test. He's none other than Sir Garfield Sobers, also known as Garry Sobers.
The Test match was played on August 23-27, 1973. This is the third Test between England and the West Indies. The West Indies batted first and declared for 652 for the loss of 8 wickets. That team had three centuries in the innings. But one of them is the magnificent, memorable Century of Gary Sobers. Captain Rohan Kanhai scored 157 while Gary Sobers scored an unbeaten 150 in the match. Bernard Julian added 121 runs. Also Clive Lloyd scored 63 while Roy Fredericks scored 51. England bowlers Bob Willis took 4 wickets and Tony Greig took 3 wickets.
Sobers was unbeaten on 31 by the end of the first day's play. However he drank all night the day before the the start of second day's play . When he came to batting the next day, his condition was not entirely good. He was afraid of vomiting while batting. He revealed this after the match. But in that innings, Sobers faced a total of 227 balls and scored an unbeaten 150 with the help of 19 fours.
England, meanwhile, scored 233 in the first innings. Keith Fletcher top-scored with 68. West Indies bowlers Van Burn Holder and Keith Boyce took four wickets each. Lance Gibbs took two wickets. Following on, England were all out for just 193 runs. This time too Keith Fletcher scored an unbeaten 86. In the second innings, Windies bowlers Keith Bose took four wickets, Lance Gibbs and Bernard Julian three wickets.